EDI Students Compete in VentureCat
Team Behind Maya Startup Advances to Semi-Finals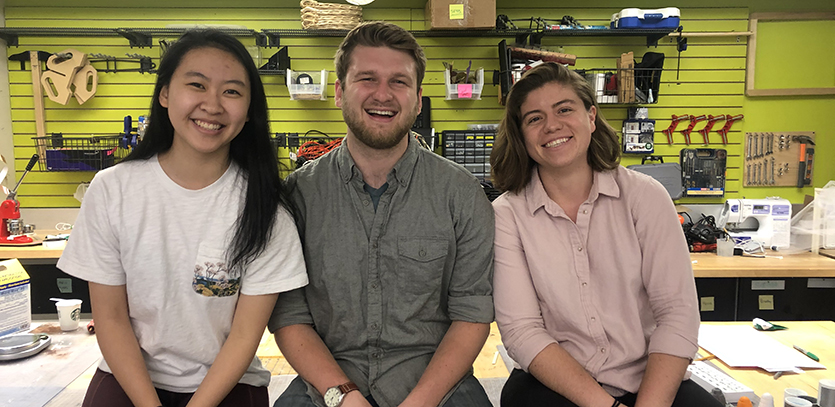 When Christy Zhang (EDI '19) and Hanna Lauterbach (EDI '19) were working on projects related to women's health during a course called Intersect CPG, they discovered something: many women do not have a positive experience when they first try a menstrual cup.
Zhang and Lauterbach decided to enter the White Space Design Challenge, a competition organized the Product Development and Management Association, to focus on this unmet consumer need. Their classmate Chris Spaulding (EDI '19) joined them, and the startup Maya was launched.
With patent-pending ribs and rings to encourage proper opening and sealing, Maya is a menstrual cup system to help women who are new to using a cup feel confident during their period. On May 2, the team won the White Space Design Challenge.
Many students enroll in the Master's of Engineering Design Innovation (EDI) program with a passion for entrepreneurship. While at Northwestern, EDI students can take advantage of resources like the Farley Center for Entrepreneurship and Innovation and The Garage at Northwestern as well as courses for EDI students like Differentiation by Design and Intersect CPG.
This month, Zhang, Lauterbach, and Spaulding are honing their entrepreneurship skills by competing in VentureCat, an event celebrating Northwestern's most promising student-founded startups. VentureCat culminates with a pitch competition on May 22, 2019, in which over $100,000 in prize money will be distributed to student ventures.
VentureCat is a collaborative event at Northwestern, including efforts through The Farley Center for Entrepreneurship and Innovation, The Kellogg School of Management, the Donald Pritzker Entrepreneurship Law Center and The Garage.
Q & A with Christy Zhang
Read this interview with Maya co-founder Christy Zhang to learn how the startup formed, what the team's experience in VentureCat has been like, and how the EDI program has impacted their move into entrepreneurship.
Q: Tell us about Maya.
CZ: Maya is a menstrual cup system aimed at helping women new to using a cup feel confident and comfortable on their period. Our menstrual cup has patent-pending ribs and rings to encourage opening and sealing properly, and so it can be removed from the base of the cup, reducing the messiness of using a cup. We're also developing an app that alerts users when to empty their cup, so they never need to worry about overflowing and leaking.
Q: How did you, Chris, and Hanna come together to launch Maya?
CZ: Maya started when Hanna and I were working on projects in women's health and wellness for our Intersect CPG class sponsored by PandG. Hanna convinced me to try a cup, so I did, and I had a terrible experience with it. We then started talking to other EDIs and looking online and found out that most women have an awful first experience when they first try a cup. At the same time, the PDMA White Space Design Challenge was looking for students to enter, and we needed a project focused on an opportunity that doesn't exist in the market for a final project for Professor Dan Brown's Differentiation by Design class. Hanna and I, along with our other founder Chris, realized that existing menstrual cups are designed purely for functionality, not for an easy user experience, so we saw an opportunity to use human-centered design to create a menstrual cup that could have real value for its users.
Q: Tell us about the successes that Maya has had so far.
CZ: We won first place at White Space Design Challenge a few weeks ago! It was an amazing experience and talking to the judges and other people working in product development definitely helped motivate us to keep going. We also got to the semifinals of VentureCat in the Business to Consumer track, and we're looking forward to pitching our concept later this week.
Q: What has been like to participate in VentureCat so far?
CZ: I think my favorite thing has been getting to work so closely with Chris and Hanna. Even though on paper, we all seem like we have similar backgrounds, we have different strengths in the design process and the way we each work through it. I've been able to learn as much from my teammates as I have from our coaches and mentors and being a part of this team that believes in our mission and the process to get to our solution has been the best part of this project.
Q: How has VentureCat Semifinalist Prep Program been helpful for your team?
CZ: VentureCat has been an eye-opening experience so far. Every week, we work with different pitch coaches, industry experts in coaching and judging venture pitches, on how to tell our story. It's definitely been a little crazy and intense, but it's always great to hear other perspectives on the value of design thinking, because of course, after school we'll never be working in isolation. There have also been some nuggets of advice on storytelling and pitching that are going to be invaluable in other projects we work on: "benefits, not features," "steer into the risks," etc.
Q: Did you have a passion for entrepreneurship when you started EDI?
CZ: EDI has helped me realize my interest in entrepreneurship. Between our classes and the coaching sessions for VentureCat, we've learned a lot in this process. All of our professors have been really supportive throughout this project in helping us with navigating a patent application, figuring out a business model, and giving us advice on how to tell our story. It's been valuable to not only do the design side of things but get to execute it as well.
What EDI coursework has influenced your experience with Maya?
CZ: Maya was shaped pretty profoundly by the Differentiation by Design course. The way this class was set up to help us consider the big picture of what we're designing from IP to supply chain to marketing was crucial in helping us figure out what the white space is in our market. The final for that class was to take an existing project and clearly identify the white space and competitive advantage, and that mindset is beneficial to have for entrepreneurship.