Christy Zhang
Product Design, Design Engineering, Consumer Products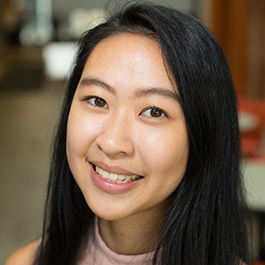 About
Christy wants to explore where and how design and engineering thinking can be integrated to change the way people interact with products that directly affect the way they live.
Why EDI?
Christy initially became interested in how people interact with objects and designs while working on yearbooks in high school and college. She saw that a spread viewed in InDesign has a fundamentally different meaning than when it is bound in a 400-page yearbook; the physical book holds more value people than its digital counterpart. The extensive research and planning that went into yearbook design to make sure that it accurately represented the student population was Christy's first introduction to developing customer needs and understanding the functionality and purpose of a product from their perspective.
While studying mechanical engineering at UT, Christy had the opportunity to take a course taught by IBM designers at their Austin campus that showcased IBM Design Thinking in a multidisciplinary setting. This experience inspired her to use both design thinking and skills from her engineering courses to design and produce a pack that stores documents for hurricane evacuation and recovery for her senior capstone project. Christy hopes that the EDI program will empower her to merge design and engineering to understand and design for a user's needs.
Education
BS, Mechanical Engineering, The University of Texas at Austin
Misc
Christy has studied classical and folkloric Chinese dance since the age of four. She loves to choreograph in her free time.
Back to top