Stephen Arlington
Service Designer and Design Strategist, Booz Allen Hamilton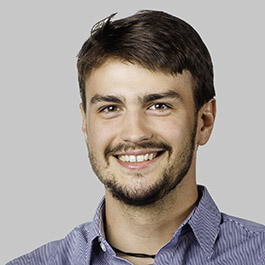 Alumni Interview
"I came in thinking I would go into product design; however, because EDI gave me experience in the other sub-disciplines of design, my aspirations and outlook shifted toward the more macroscopic and strategic realm of service design and design strategy."
When you started EDI, did you know what industry you wanted to work in or were you still exploring?
When I started EDI, I came in thinking that I wanted to work in product design for either a design firm or a company. "Engineering Design" (in the form of courses and disciplines from my previous schooling and experience as a Mechanical Engineer) was my gateway to looking into graduate design programs. I then found that I did want to pursue more human-centered design, but the desire to heavy a strong focus on making and building was always there. That is a big reason Northwestern was on my shortlist of graduate schools. Its multidisciplinary focus on both the tangible tactics and technologies of making, combined with the soft and strategic skills, made it the ideal program for me. So, I came in thinking I would go into product design; however, because EDI gave me experience in the other sub-disciplines of design, my aspirations and outlook shifted toward the more macroscopic and strategic realm of service design and design strategy. I have always had aspirations of "going it on my own" (invention and entrepreneurship), and I was also drawn to Northwestern because of the Farley Center and its many courses and resources. My time in EDI only strengthened that desire and gave me the tools and confidence to constantly be considering that possibility. Though I am in a traditional job currently, I still maintain desires and plans to take some of my ideas, apply what I learned in both design and entrepreneurship, and get something off the ground, even if on the side at first.
Tell us about an EDI course that made an impact on you.
To be honest, I am not quite sure when my interest shifted to service design, and therefore I can't point to a specific course which caused it. The Service Design Studio certainly played an important role in confirming my interest in service design. Our project with Procter & Gamble was probably my favorite large project that I worked on at EDI because it allowed me to apply the techniques we learned in Design Research (with synthesis, frameworks, and visualizations), and it also allowed me to continue to make physical mockups of products that would be part of the larger service. Since the project was for a small startup within P&G, it also had an emphasis on entrepreneurship that allowed us to consider all aspects of the business model. That being said, perhaps one of the most important courses to me was Differentiation by Design. This course combined the human aspect, which was so strongly ingrained in our other courses, with a greater scope that had us considering all possible levers with which could differentiate a product, service, or business from the competition and better serve the human stakeholders. In this course, I learned how I could better incorporate human-centered design thinking with engineering, logistics, and business into a holistic vision that can be applied across an entire organization or act as the foundation for a new one. I cannot discount any of the courses I had since Design Research, each studio, Design Strategy, and Design Communication, and Visual Storytelling are all so critical in my role and life today.
Is there anyone you worked with during EDI that you consider a mentor?
Again, it is difficult to really pick a single person. I can't say that my career direction was really steered by one source since it was influenced by previous EDI students, professors, external speakers, project clients, the Chicago community, and just my experiences in general. I can say that I seek out the advice and guidance of two professors more than others based on many factors. Professor Michael Marasco in the Farley Center for Entrepreneurship and Innovation was especially helpful at making connections for me and providing me with guidance in the realm of entrepreneurship. Though my career has not yet made this pivot, I wholeheartedly believe that everything in the EDI program, when combined with the Farley Center electives and activities in which I participated, gave me the confidence and methods to take ideas and make them a reality. But perhaps most important to me was Professor Dan Brown. He was and continues to be a great mentor, resource, and friend. Whether it was debating IP law, musing about the theory of design, or receiving advice on personal and academic ventures, he helped EDI students like myself with genuine interest, compassion, and intellectual rigor. He is certainly someone for whom I miss having easy access and for whom I would come back to Chicago and Northwestern.
How did you decide on your EDI thesis project?
I probably was one of the earliest students to decide on a thesis project topic. Shortly into my time at EDI, I started to think that I needed some greater purpose beyond just learning everything and getting a job. I naturally started thinking about efforts or causes toward which I could apply all my learnings as I went through graduate school. I quickly fixated on the idea that I could use design to revitalize my hometown of Buffalo, NY. Ideas for this varied and developed as I progressed through EDI, but even before the end of the first fall quarter I had an idea around how I might revitalize a blue-collar rustbelt city, like Buffalo with its "brain drain", through the built environment and designed services. To keep a long story short, the ideas and plans piled up in the back of my mind (and in my notes) as I learned more and more in all of my classes. I ultimately pitched this very large and complex problem at the end of winter quarter during our initial thesis meeting…. and it got shot down pretty hard. To be fair, it was completely warranted. I let my ambition get the better of me and disregarded the time and resource constraints I had. As I discussed my dilemma with EDI leadership and my mentor, I narrowed the scope greatly to a more manageable challenge. In brief, it was about how people seek space for productivity outside of the home and office. They end up abusing one of the few environments that will have them - coffee shops - but these places are not designed for getting work done and are only meant for people to converse over beverages and light snacks. I won't bother explaining how this tied into the larger master plan of urban revitalization, but trust me, there was a path. After additional research, I narrowed the scope further to: How might we provide these "third space" seekers with a work surface that suits their productivity needs, but also have it fit into the environment, constraints, and aesthetic of a coffee shop. I still hope to capitalize on the resulting design in the future because many who saw it confirmed that it filled an unmet need and had potential value in the market.
What advice do you have for an EDI student interested in working in your industry?
I have talked to many students and prospective students about my thoughts on how to approach EDI. Document everything you do in EDI! This is useful for your portfolio and future representations of your competencies. Take as many photos of as many things at as many stages as possible. Also, during every project, think about how you can "sell" it to your future job interviewers. What value does it have with respect to the type of job you are targeting? Maybe even record those thoughts somewhere as you go so you can write and speak the best blurbs possible in your resume, portfolio, and during interviews.  I hate the shallow concept of "networking," so I instead like to think of it as exposure. Say yes to as many things as you can manage. Go to talks, events, conferences... seek out interesting tangential things and topics. The more you are exposed to the better; whether it's people, ideas, jobs, companies, concepts, technologies. It will just help you better identify what you want and give you a much wider breadth of things to speak to. I think a big part of pursuing a specific career is just making sure you are confident in what you want and then ensuring that you think through how you present yourself accordingly (resume, online profiles, portfolio, even how you introduce and talk about yourself to people.) I wouldn't say you have to be sure of what you want at the onset of the program or even at all times, because that is always a moving target for everyone. I just think you should get exposure to as much as possible as early as possible so that you have a better idea of the direction in which you want to go. That way you will be aware of all of the opportunities that are out there and that you think will help you grow in that direction. By the end of EDI, it is more beneficial to know what roles you want to target, but you can still have multiple interests and your career path itself could certainly pivot. It is just easier to target companies and jobs and to write your resume and portfolio when you are more specific. But if you like multiple paths equally, you certainly could create multiple tailored searches, resumes, portfolios, and interview pitches. I think a career-pivot is achievable through EDI and Northwestern. Many of the electives you take and extracurricular activities in which you participate may not be related to design directly, but that is not a problem. I would encourage you to look at what type of courses you may be able to take in tangential departments that you think will help you build those secondary and even tertiary aspects. I am also a strong believer that everyone should take at least one NUvention or entrepreneurship course no matter what career path you hope to enter because it provides soft and hard skills that are valuable to both aspiring entrepreneurs and companies or consultancies.
Back to top