Tracking Success Through a Design Sprint
Recent EDI graduates reflect on the opportunity to work directly with Jiobit to help discover a potentially new audience segment.
When Caroline Scheibel was considering graduate programs, something that appealed to her about Northwestern's Engineering Design Innovation (EDI) program was the chance to work directly with clients on projects that mattered to her.
One of those opportunities came thanks to the program's Design Sprint course, where students get to work directly on a sprint project with an innovative client.
"I was most excited about getting the opportunity to work on a small team directly with the client," Scheibel (EDI '22) said. "This design sprint allowed our team to work very similarly as a team in the real world would do while solving this problem, which was a fantastic experience to have."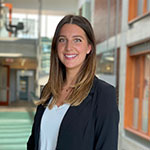 Scheibel and five other classmates worked with Jiobit, a company that makes tracking devices targeted at parents, pet owners and caregivers for the elderly, among others. The tiny trackers are durable and have just one button. Hold it down and a trusted contact is notified that there's an emergency. Press it twice to alert them it's time to meet up – say, when it's time for a teenager to head home for dinner. 
Jiobit challenged students in the EDI Design Sprint class to discover a new type of target audience who could benefit from the company's offerings. 
"We presented three new opportunity areas for service and digital product offerings," said Seth Applebaum, who served as the Design Sprint team's product management and business strategy lead. "Based on those needs, a new physical product was presented. The presentation and demo were part of the final deliverables of the course."
Like Scheibel, Applebaum entered EDI looking to learn from client project opportunities, 
"Coming into EDI, I wanted to grow as a hybrid, interdisciplinary innovator," he said. "This project allowed me to flex those skills." 
The team did work in areas Jiobit hadn't spent much time and came up with possible segments and target markets the company had not previously considered. They learned from that valuable experience; they also learned from moments when things might not have gone the way they hoped.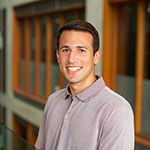 Since the onset of their time in EDI, Applebaum, Scheibel, and their fellow classmates heard the reminder that not everyone would like their design — no matter what they're working on or what their solution is. Hearing it in class and experiencing it on their own work were two different things, Scheibel discovered.
"Not every user you talk to is going to like your idea or provide feedback that supports your design direction, and that's OK," she said. "Experiencing it first-hand allowed me to better recognize negative user feedback that was actionable vs. user feedback that was just negative." 
That was the most important lesson Scheibel took away from her Design Sprint class. Both she and Applebaum built on their Design Sprint experience during the rest of their time in the EDI program and are now finding early success in the working world. Scheibel is an associate product designer with financial services firm PEAK6 Investments, while Applebaum is an associate product manager with Loeb.nyc, a venture capital firm and venture studio. 
For Applebaum, the Design Sprint class helped prepare him well for his post-EDI career.
"Because this was an independent study course, there was less structure," he said. "It was more similar to the working world and different from other studio-based courses, where we were learning something for the first time."