Demonstrating the value of human-centered design
Joanne Ting-Yu Hsu's summer internship with Feeding America taught her to experiment and reflect more, thanks to alumnus mentor Dan Butt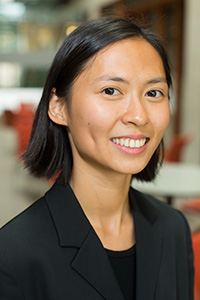 Bringing human-centered design to underprivileged communities is what drew Joanne Ting-Yu Hsu (EDI '19)to the Segal Design Institute's Master of Science in Engineering Design Innovation (EDI) program. This past summer, she had the opportunity to do just that as an innovation intern with Feeding America.
Based in Chicago, the hunger relief organization provides food assistance to more than 40 million people in America each year. Working for the organization gave Hsu the chance to create impactful solutions by understanding stories that are often neglected.
Along the way, she had the benefit of an EDI alumnus mentor, which took the experience to a new level. "Dan Butt (EDI '13) provided me great mentorship throughout my internship," she says. "I not only learned new technical skills and design approaches, but I also gained new mindsets on my graduate thesis and future career paths."
Finding a path forward
Butt, who serves as Feeding America's senior manager of innovation, is one of many active alumni who mentor EDI students through summer internships. The full-time graduate program teaches engineers how to address design problems using a human-centered approach.
EDI students are engineers who like to create new things, are comfortable with problems that are hard to pin down, and care about culture and contemporary context. This background made Hsu the perfect addition to the innovation team, says Butt.
"What's unique about a student coming out of the EDI program is their mindset, their ability to empathize, and their skills to bring what's possible to life," he shares. "Joanne's work with Feeding America was a great example of the kind of skills an EDI student brings. She was able to jump into ambiguity with a positive attitude to find a path forward."
Translating stories into insights
Hsu's team designed and piloted Helpful Harvest — Feeding America's first neighbor-facing digital service to improve access to charitable food. She helped conduct experiments with food banks and community partners to test hypotheses. The team collaborated with internal departments, including the software development team, program department, and supply chain department, to create the frontend and backend of Helpful Harvest.
She also worked on Project Foresight, which envisions the future of the food system through a co-creation process with food bankers and other food experts. Collaborating with people who work tirelessly for their communities and learning from those who are "food insecure" was exciting and humbling for Hsu.
"Their stories are inspiring and moving," she shares. "It was my honor to translate their stories into insights and lay them as the foundation of our designs."
Creating better experiences
Being able to utilize her EDI knowledge to help underprivileged communities was incredibly fulfilling. EDI's three Human-centered Design Studio courses — Product Design, Interaction Design, and Service Design — gave her tools for conducting interviews, usability testing, and service blueprint development. "With my fluency in these skills, I helped push forward Helpful Harvest through a user-centric and evidence-based approach," she says.
Hsu's empathetic skills were evident to Butt and the rest of the team as they interviewed people experiencing food insecurity and channeled their insights to create better experiences.
"Joanne's ability to mock up wireframes, think through storyboards, or sketch up directional signage helped to bring whatever ideas we had to life," he says. "These are the same core skills my team has used to demonstrate the value of human-centered design and a design-thinking mindset to our colleagues."
Having a mentor who shared her EDI background gave Hsu insights beyond the internship. Their in-depth conversations on personal growth or the future of the food system inspired her to think in new ways.
"On our field trips to partnered food banks, Dan and I would listen to interesting podcasts and discuss afterward," she says. "Through these conversations, I am inspired to experiment more, reflect more, and share more."