Creating Solutions for Complex Healthcare Challenges
Working with alumna mentor Aubrey Kraft at Kaiser Permanente Design Consultancy made Alyssa Brown's summer internship an experience to remember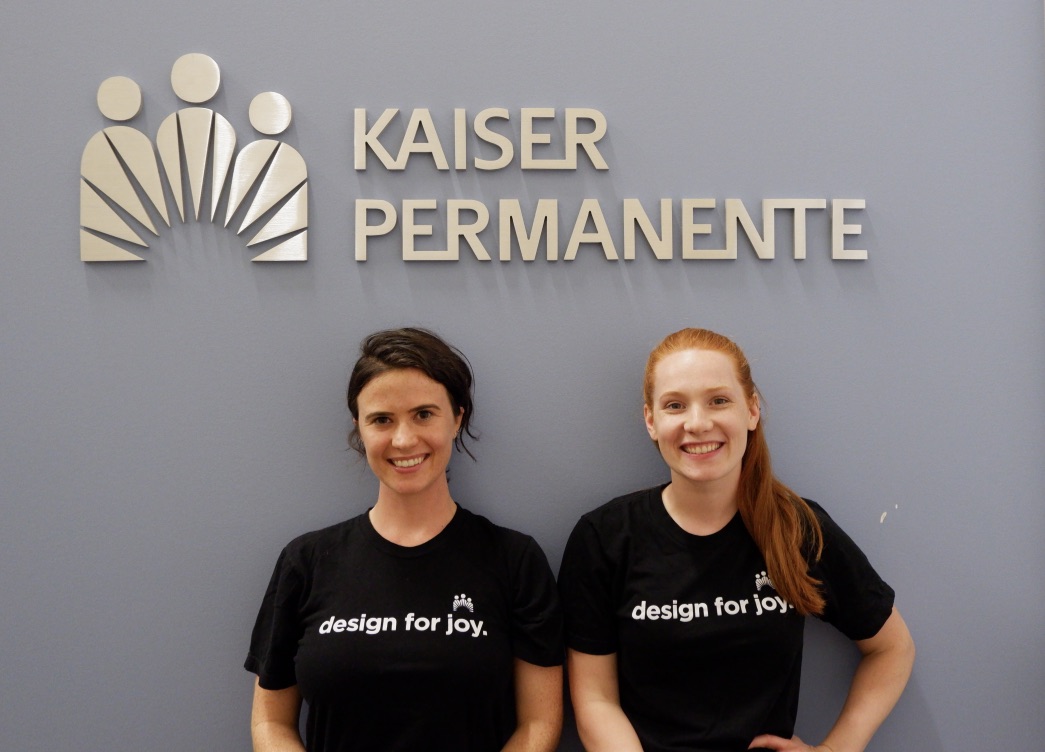 A summer internship helped Aubrey Kraft (EDI '16) decide the direction of her career when she was a student in the Segal Design Institute's Master of Science in Engineering Design Innovation (EDI) program. Today, Kraft is one of many active alumni helping EDI students make those same decisions and prepare for future roles through internships.
This past summer, Kraft mentored Alyssa Brown (EDI '19) during her internship with Kaiser Permanente Design Consultancy in Oakland, CA. Kraft is a service designer with the group, which applies human-centered design to create solutions for complex healthcare challenges.
Seeing an EDI alumna in a leadership role was inspiring for Brown and helped her draw connections between class work and real-world applications. "Aubrey shared the same process that we learn in EDI and was able to give me constructive feedback in a framework that was familiar," Brown says. "I felt very comfortable because she was there, allowing me to take more risks, which helped me maximize my learning."
An innovative process
When Kraft joined Kaiser Permanente Design Consultancy, she was the first EDI graduate on the team. She introduced her colleagues to the full-time graduate program, which teaches engineers how to address design problems using a human-centered approach. While solving the needs of real people, EDI students are deeply immersed in design thinking — an innovative process of user observation, visualization, rapid prototyping, and iteration.
Graduates leave the program ready to lead cross-functional teams and design groundbreaking new products and services. After watching Kraft demonstrate her EDI background on numerous projects, her coworkers were happy to welcome an EDI student to the group.
"Introducing Alyssa to the Design Consultancy team and the project team she would be on was a simple task," Kraft says. "As soon as I said she was an EDI student, they understood the skills she would have and how she would be able to contribute."
A moving experience
They soon put Brown to work on Project Chamai, which leverages digital tools to provide emotional wellness and mental health support to patients. She interviewed clinicians and patients to understand their experiences with the Chamai pilot program and other digital tools to help inform business decisions.
An artist by nature, Brown had the opportunity to create an exhibit at Kaiser Permanente's Garfield Innovation Center to communicate the impact of Project Chamai to executive leadership and the public. Pairing her creative interests with her engineering and design education was exceedingly rewarding.
"The exhibit consisted of a large, wall-sized poster accompanied by a video full of stories from real people impacted by Project Chamai," she explains. "Working to create this was incredibly moving and humbling, and I am grateful for having been a part of this work." 
Real-world opportunities
Brown was also able to shadow supervisors, travel to conduct design research, and observe a design pilot program. The team offered her numerous opportunities to apply the EDI skills she honed in courses like Design Research and Service Design. The NUvention Medical class and the Design Sprints project with Lurie Children's Hospital, which allowed her to interact with physicians and patients, were particularly useful.
"Having so much real-world exposure to patients made me much more comfortable this summer when I was interviewing patients about sensitive and personal healthcare needs," she says. "Most importantly, I was able to clearly articulate my work to others in the organization, which is a skill that EDI has helped me develop during every course."
Brown's valuable EDI expertise was exactly what the team needed, says Kraft. "We were looking for students who had experience with real projects and clients and would be able to flex and contribute to a project whose scope was changing constantly."
The whole internship was amazing for Brown, who was able to connect with and get personal career advice from senior management, C-suite executives, and experienced designers. But having an EDI mentor made the experience special.
"Aubrey supported me immensely," she says. "I felt more comfortable asking questions, asking for feedback, and asking for help when I needed it because I knew she understood where I was at and would always have my back."