Aubrey Kraft
Service Designer, Design Consultancy - Kaiser Permanente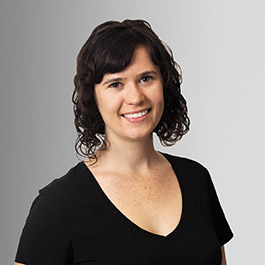 Alumni Interview
"Learning to lead projects and work with stakeholders has been one of the most important skills I learned during EDI."
When you started EDI, did you know what industry you wanted to work in or were you still exploring?
I came to EDI having worked in healthcare-related fields, so while I was interested in seeing how design could merge with what I already knew I was open to other industries as well. I focused on healthcare where I could and kept an open mind toward other industries. Working on a real project at a hospital during my summer internship reconfirmed my passion for healthcare.
Tell us about an EDI course that made an impact on you.
There are components of every course I took during my time in EDI that influenced me and helped me build the skills that I use today. Learning to lead projects and work with stakeholders has been one of the most important skills I learned during EDI. The two courses that most impacted me were Designing Product Interactions and Service Design. Designing Product Interactions showed me the emotional side of design and taught me to think deeply about how each small interaction can influence an experience. I still notice how sounds, pushing a button or the texture of something make me feel! Service Design introduced me to the field of design I currently work in and helped me think about solutions as components to create a holistic experience. This is essential in the work I do now at Kaiser Permanente. Everything we deliver is a service, and I have to think about how my work will influence the patient experience as well as the provider experience and work within the infrastructure of our organization.
Is there anyone you worked with during EDI that you consider a mentor?
Two people stand out from my time in EDI, yet everyone in the EDI community was always willing to provide guidance and help me grow. Craig Sampson, who was my thesis mentor, guided me through the process helping me scope my project and asking the right questions to guide me forward. He also helped me sort through what I was passionate about and what that meant in terms of a career. Professor Greg Holderfield's Design Strategy class challenged me to think what I wanted in the future and think critically about a plan to get there.
How did you decide on your EDI thesis project?
Formally deciding on my thesis project was the culmination of several weeks of thinking about and writing down my strengths, areas I wanted to grow in, passions, and needs for the future. Putting everything on paper helped me structure my thoughts and direct my thesis project when I had critical decisions to make. I knew I wanted to work on a project for social good that would allow me to use design research skills. Ultimately choosing a topic I was extremely passionate about was an important factor in my choice and helped me continue forward when things became difficult during the project.
What advice do you have for an EDI student interested in working in your industry?
Working in healthcare can be extremely rewarding and very complicated. Even if you have no prior experience in healthcare, there are many ways to take advantage of your time in EDI to position yourself for a career in healthcare. Keep current on what is happening in healthcare: read articles and blogs, go to conferences, follow design groups that work in healthcare, etc. If you can, gain experience working on healthcare-related projects or doing your internship in healthcare. Having experience in healthcare can be important to enter the industry but strong skills and being passionate about social impact or helping people can go a long way. Focus on building skills you know you want and need to develop to be able to work across an entire project. Design is relatively new in healthcare, so many teams are small and being able to pitch hit where you are needed is really important. Storytelling, explaining the importance of human-centered design, and working with stakeholders are key skills to have in the healthcare industry.
Back to top