PedalCell Competes in VentureCat
EDI student Gar Waterman balances classes and startup life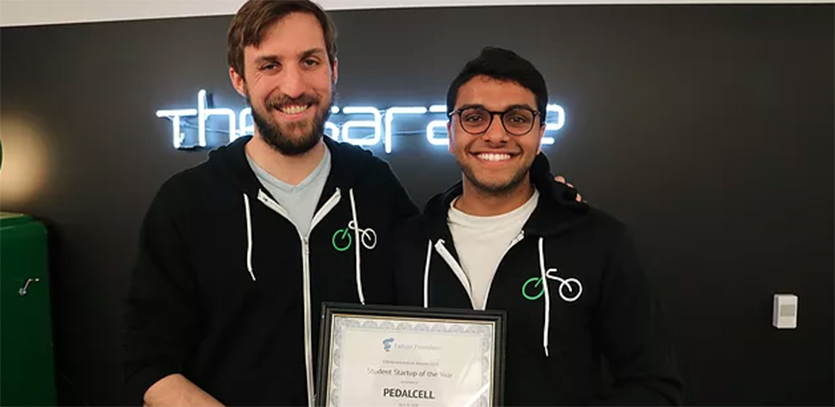 When Gar Waterman (EDI '18) is not busy learning about human-centered design during his courses for the MS Engineering Design Innovation program, he helps run a student-led startup called PedalCell.
PedalCell is currently part of the Residency Program at The Garage, Northwestern's hub for entrepreneurship. The company's first product is a bike-powered phone charger for the bike share industry. It converts a bicycle's rotational energy into usable electricity and then uses that energy to charge a smartphone faster than most wall outlets.
In February, PedalCell won first place and $15,000 in the Michigan Business Challenge after competing alongside 80 other student-led startups. PedalCell was also recognized as the 2018 Student Startup of the Year from Future Founders, a Chicago-based organization, at its EntrepreneurshipU Awards in April. 
Before coming to Northwestern, Waterman received a bachelor's degree in Biomedical Engineering from Bucknell University and won a grant from the National Geographic Society to travel to Mongolia.
Continue reading to learn how Gar became involved with PedalCell, find out how you can try out PedalCell's technology for yourself on Northwestern's Evanston campus, and what's next for this startup.
How did you link up with the co-founders of PedalCell to become Chief Technology Officer and what does your role involve?
Gar Waterman: I met Vishaal Mali, the CEO, at a startup matchmaking event at the garage while I was looking for some engineering contract work to provide some extra income. When I find a project as compelling as this and a vision so passionately expressed as it was by Vishaal and Adam Hokin, our COO, I really can't help myself but dive in headfirst. By the next quarter, I went from contract engineer to assuming the responsibilities of CTO.
Practically speaking, that means I am responsible for pushing the technical ball forward so we can really make our IP shine. I have also been leveraging the design expertise I've been developing in the EDI program to articulate our advantage. The 'Chief Officer' part of my responsibilities is to construct the business strategies that create the most value from our technical and design capacities.
PedalCell is partnering up with SustainNU and the Northwestern Sustainability Fund. When can we expect to see PedalCell phone charger rigs around campus?
GW: As a company, we are committed to sustainable and positive social and environmental impact and are excited that we have been generously granted the opportunity to make that impact right here on campus. We'll be setting up PedalCell-equipped stationary bicycles at two locations on campus and are currently building the rigs so they can be on campus soon!
How has your coursework in the EDI program impacted your work with PedalCell?
GW: My EDI coursework has been immensely useful in laying the groundwork for success in developing our product. We have some great tech and while there has been a great deal of effort expended in bringing it out of alpha (we're now in the beta stage of our development), human-centered design has given us confidence in our understanding of our users, their needs, and the best way we can deliver on a solution to those needs. This summer we'll be doing more work in human interaction and UX to help shape the presentation of our tech to users.
What's it been like for you to be part of a team at The Garage?
GW: The Garage is an incredible resource. We're already growing beyond the walls of The Garage and their staff there has been integral in that development. I have been particularly impressed at their tireless commitment to finding a way to get done what needs to get done - and trust me, a student startup has a LOT to get done in every possible category.
PedalCell has advanced to the semi-finals of VentureCat, Northwestern's pitch competition for student-led startups. Congratulations! What's it like to be a part of VentureCat?
GW: VentureCat is special in that the competition puts a wealth of resources at your disposal. In other competitions, it takes many weeks or months of pitching through various rounds and you're expected to figure all of it out. You never really know to what extent your success or failure is due to your pitch and how much is due to what you're pitching. In VentureCat, once you're a semi-finalist, you've got coaching, graphic design assistance, and more that helps you build the pitch and understand the value of your product. Not only does this help you bring your best to competition day, but it takes advantage of the competition as an opportunity for learning and that is immensely valuable.
We've gotten a lot of value from the pitch coaching sessions. We can try out different approaches or styles of pitch before the competition and get critical feedback on them. We've made a lot of progress developing how we present through these sessions.
Where do you see your work with PedalCell going in the immediate future? What's next?
GW: This summer we're working through our beta phase of development in direct preparation for pilot production. We're hiring more employees, ramping up our conversations with clients, and continuing our first rounds of fundraising. Just this weekend, though, we're installing units on Boober pedicabs in Ann Arbor to road test our product.