Hybrid Designers Show Projects at EDI Thesis Fair
Students presented human-centered design projects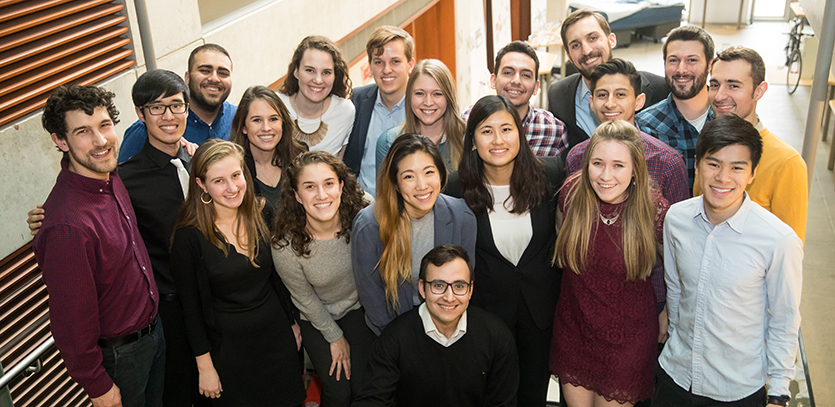 Graduating students in the Master of Science in Engineering Design Innovation (EDI) program in Northwestern Engineering's Segal Design Institute have reached the culmination of their academic journey: the 2018 EDI Thesis Fair.
On December 14, eighteen EDI students presented their thesis projects before faculty, mentors, family, friends, and classmates at the Ford Motor Company Engineering Design Center. The Thesis Fair concluded a two-quarter long effort in which the students worked on self-selected projects. Their thesis projects demonstrate how EDI shapes its students into hybrid designers, blending their engineering and technical skills with human-centered design.
"From exploring a problem and brainstorming potential solutions to prototyping, the students themselves owned this work and developed solutions simultaneously through both a technical lens as well as the human-centered design lens," EDI Program director Jim Wicks says.
Investigating problems that intrigued or inspired, students began their thesis projects by performing primary and secondary research ranging from interviewing key stakeholders and reviewing academic research to field visits and direct observation. That stage prompted thoughtful synthesis in which students considered the full spectrum of their research to identify prevalent pain points, extract common threads, and formulate journey maps that informed their thinking on prospective solutions as well as next steps in the design process.
"Students were constantly pushing themselves to dig down and figure out ways around walls as they transformed broad concepts into concrete solutions," Wicks says.
Seven practicing designers served as thesis mentors and guided the students through this experience. Thesis mentors offered expertise, pointed students to resources, shared tips for conducting research and developing design ideas, and encouraged students' persistence through weekly face-to-face meetings and ongoing communications.
Mentor Elisa Vargas, who leads the global UX design practice at Motorola Mobility, says the EDI thesis project challenged students "to make the intangible visible" by grounding them in research and user feedback, critical components to successful design in today's marketplace.
"Designs change as you get feedback from people using your solution and you can spend a great deal of time going through rounds or refinements that projects can get really deep, so it was great to leverage my experience and help lead students through that process," Vargas says.
Although outcomes often generate the most attention, Wicks reminds that the deep-diving, layered process – something so vital to human-centered design – is perhaps the most vital element of the thesis experience.
"What the students learned about decision making, leveraging others' expertise, and pushing their own limits to create meaningful solutions is so valuable because that's what will drive their careers and lead to quality design," Wicks says. 
Four projects from the 2018 EDI Thesis Fair
Here is a closer look at four projects from the 2018 EDI Thesis Fair. 
Drumm by Joe Burke
The Problem: Music therapists leading group sessions often struggle to balance individual needs with effective group facilitation.
The Solution: By synching up participants' drum pads to a therapist's iPad, the therapist can individualize therapy while students can contribute to collective music making and articulate emotion.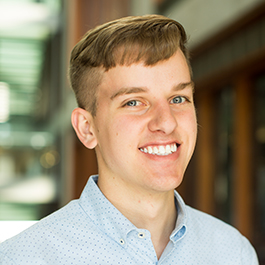 Building the Solution: Burke interviewed therapists, attended a music therapy conference, led musical co-creation activities, and engaged in online discussions with music students. Before developing a new interface with insightful guidance from mentor Susan Curtis, Burke ran prototyping sketches by therapists and performed low-fidelity testing to gain valuable user feedback, which sparked the inclusion of turn-taking functionalities and volume controls.
"This was a fast and dense process and I wish I could've kept drinking in more and more. Every week was about being on task and looking for ways to push the project forward."
Plus+ by Joshua Kim
The Problem: Cancer patients undergoing proton therapy treatment encounter an experience both uncomfortable and clinically inefficient.
The Solution: A couch top insert with interlocking panels that move perpendicular to the patient's spine enables the therapist to more easily, accurately, and comfortably adjust the patient.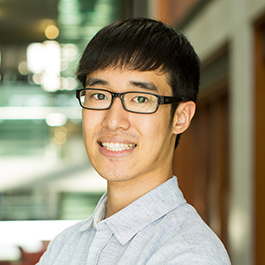 Building the Solution: Kim visited California Protons in San Diego, the Chicago Proton Center, and the American Society for Radiation Oncology's annual meeting in Texas to interview therapists, clinicians, and medical engineers. Those interviews combined with academic research on proton therapy provided Kim with valuable insights regarding patient needs, constraints, and contemporary innovations. Thesis mentor Craig Sampson, meanwhile, served as a guiding facilitator, especially as it related to Kim's design direction.
"I enjoyed going beyond quantitative measurements and into the qualitative world to change patients' treatment experience. I loved the challenge of developing a tangible product that related directly back to a design goal focused on helping people."
Denote by Anna O'Donnell
The Problem: Language learners, particularly those studying a character-based language like Mandarin, often struggle to retain their skills upon leaving a structured environment. 
The Solution: A digital writing practice platform designed to help Mandarin learners retain their skills.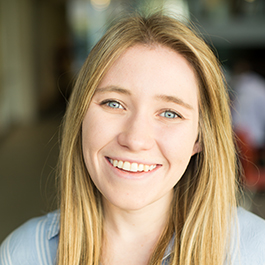 Building the Solution: O'Donnell interviewed language learners and teachers as well as those who had studied abroad. She also observed students digesting languages in high school classrooms and at Northwestern University's language tables. Pairing her firsthand research with scholarly studies on language learning and project-driving insights from multilingual thesis mentor Martin Rathgeber, O'Donnell then leveraged existing technology to create the Denote website. 
"My favorite part of this project was the moment I realized that the insights and perspectives I had pulled from my design research were so clearly tied together. It became clear what I needed to solve for and that drove my design of a concrete solution."
Agratia by Byron Pang
The Problem: Amid the hustle of everyday life, it's easy to overlook positive moments.
The Solution: A digital-analog journal, Agratia encourages daily writing and reflection on constructive, gratitude-inspiring moments.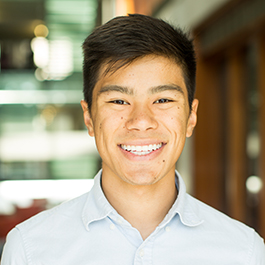 Building the Solution: From reading scholarly articles to interviewing psychologists, young professionals, and even monks, Pang conducted primary and secondary research to gain varied perspectives on the concept of gratitude in daily life. Thesis mentor Susan Curtis helped Pang structure his thoughts and target an accessible, applicable solution. Pang chose a journal given the compelling research he found about writing's role in positivity as well as the physical product's ability – spurred by signifiers on the cover and writing prompts delivered to one's smartphone – to nudge daily reflection. 
"I was encouraged to be curious here and probe things I found most intriguing. That helped me understand the nature of the problem and consider how different solutions played out in different mediums."
To learn about all of the thesis projects from this cohort, please visit the EDI Thesis Projects page.