The process of working on real projects for real clients is essential to the student experience at the Segal Design Institute.
Browse our projects gallery to see examples of past projects.
First-Year Projects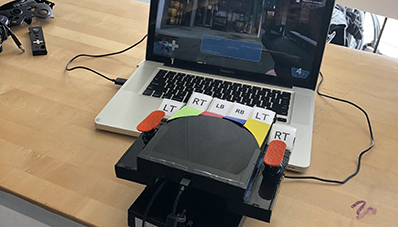 inControl
A video game controller designed for patients who have hemiplegia.
A recreational therapist observed that patients with hemiplegia have trouble playing video games with a controller designed for two hands.
A team of students designed a controller by mapping both joysticks to the user's functioning hand.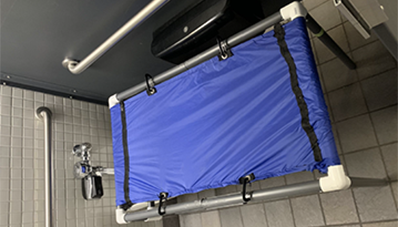 DuraCot
A portable changing table intended for a caretaker to change the diaper of a child with cerebral palsy in a public restroom stall.
A mother of a son with cerebral palsy needed a way to change her son's diaper in public restrooms.
The DuraCot is a functional changing surface that is portable, and intuitive for any caretaker to assemble.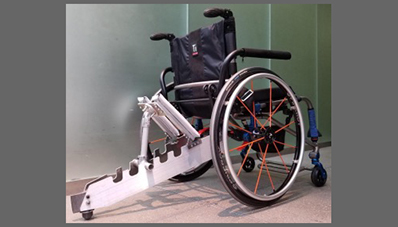 The Alligator Tail
A V-shaped aluminum rail that hooks onto the axle of a wheelchair.
New wheelchair users risk falling backward while learning how to perform a wheelie, a critical skill for navigating in a wheelchair.
While The Alligator Tail is attached, the user will be safely caught if they tip back beyond their point of balance.
View more Design Thinking and Communication (DTC) projects
Become a project partner
Undergraduate Projects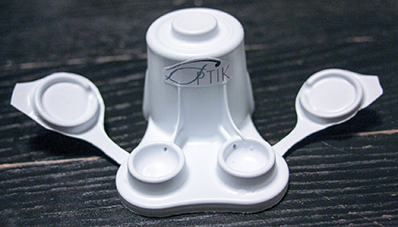 Optik
Optik, an all-in-one case for biweekly contact lens wearers.
Biweekly contact lens users often find it difficult to remember to change their contacts on time.
Students designed Optik, a product that includes a reservoir pre-filled with two weeks worth of contact solution.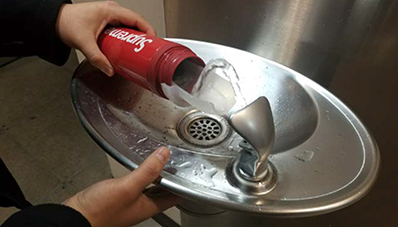 Fountain Flex
Fountain Flex, a sleeve and funnel, allows users to easily fill water bottles.
It can difficult to refill a water bottle due to issues with water pressure, shallow basins and bottle sizes.
With Fountain Flex, users can easily attach a funnel to the rim of a bottle.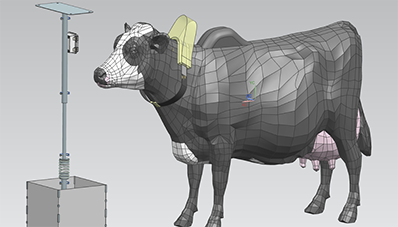 CattleTECH
CattleTECH, a system of high-visibility collars and a virtual tether post.
In Thailand, the cooperatively-run Raitong Organics Farm is transitioning to a free-range cell grazing system, but faces challenges.
Students worked with farmers to address two problems facing the farm: cattle visibility and tetherless grazing.
View more MaDE projects
View more Segal Design Certificate projects
Become a project partner
Graduate Projects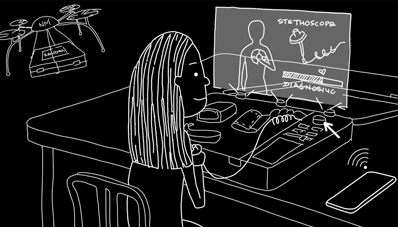 NM Check
A comprehensive virtual care system that brings healthcare to patients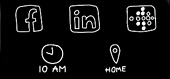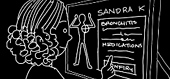 Get the care you need without leaving your bed.
Four EDI students created a forward-thinking solution after Northwestern Medicine asked them to create a virtual care system that would increase the ability of its Primary Care Physicians to see more patients.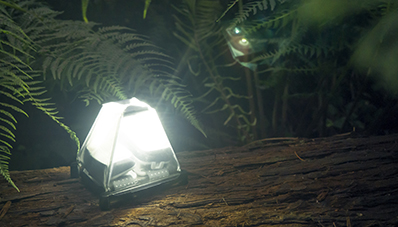 Fire + Light
A versatile and ultra-lightweight camping lantern for outdoor adventurers.
While camping, biotechnology graduate student Stephanie Wiegel discovered a 'pain point' associated with her headlamp.
A headlamp is essential for camping and hiking to ensure safety in the dark, but it has a spotty, harsh light which limits its uses for social lighting. How might this tool be improved?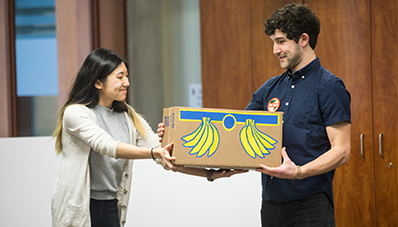 Taking on Food Insecurity
EDI students designed new ways for Feeding America to get food into the hands of those who need it most.
Feeding America charged students to create new strategies to rescue foods from retail and bring those goods into the Feeding America ecosystem.
Students tested ideas in the marketplace by visiting food banks, retail store, and various public venues to gather firsthand feedback.
View more Engineering Design Innovation (EDI) projects
View more Product Design and Development Management (mpd²) projects
Become a project partner
Affiliated PhD Research Projects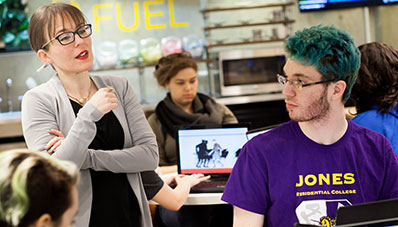 Audience Interaction
A PhD student's work aims to understand the intersection of audience interactivity and canonical cultural products.
Creating meaningful audience experiences by evoking elements of new digital media forms.
As a complementary experiment in critical making, Elizabeth is designing and building Something Wicked, a video game adaptation of William Shakespeare's gory, witchy tragedy, Macbeth.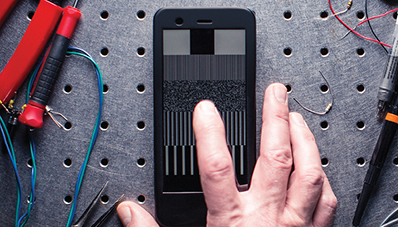 Surface Haptic Devices
A PhD student in the Neuroscience and Robotics Laboratory (NxR) designs, builds, and tests devices that provide haptic feedback on surfaces.
Touchscreen feedback.
We have built and distributed over 75 surface haptic devices to university and corporate researchers and designers and they have been used in competitions, workshops, classes, and publications.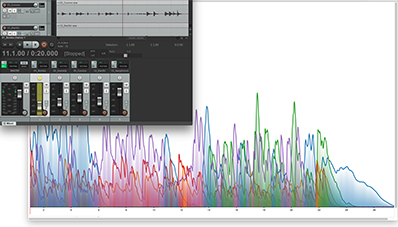 Visualizations of Audio
A PhD student works with Collablab and Delta Lab to develop visualization of audio by applying a computational model.
Creating visualizations of audio for multitrack audio.
His work helps audio engineers more efficiently mix multitrack audio, but the concept of visualizing models of perception extends beyond this application, and beyond just sound.
Learn more about the Design Research Cluster at the Center for Human-Computer Interaction + Design (HCI+D)
Become a project partner