Audience Interaction
E. B. Hunter's work explores the intersection of audience interactivity and canonical cultural products
Contribution
My research, conducted in the Fabula(b), analyzes the intersection of audience interactivity and canonical cultural products. In my traditional theatre dissertation, I examine how contemporary interactive theatre productions of the plays of William Shakespeare both revive Renaissance active spectatorship practices and evoke elements of new digital media forms to promote meaningful audience participation. As a complementary experiment in critical making, I am designing and building Something Wicked, a video game adaptation of William Shakespeare's gory, witchy tragedy, Macbeth.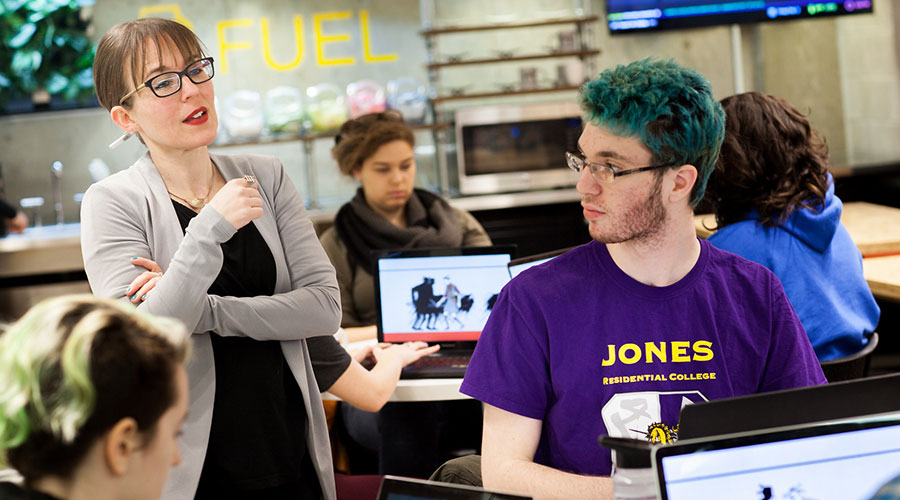 Problem
Across media forms, tech-enabled audiences want to participate substantively in the cultural products they encounter, like movies, theatre productions, or presidential debates. A more robust analysis of interactive spectatorship is necessary as technological advances like social media or virtual and augmented reality allow users ever more widespread manipulation of cultural products in daily life. Unfortunately, many interactive practices manipulate spectators' desire to participate while still rendering them uncritical vessels for pre-programmed content.
Approach
Situating this research in theatre studies allows me to demonstrate that, although access to interactivity may have increased with technology, the desire for meaningful participation is a foundational element of human spectatorship that far predates the digital age. Theatre studies makes an effective lens for thinking about audience interactivity because the foundation of our discipline engages liveness and the co-presence of bodies who are joined in simultaneous spectatorship. Accordingly, using theatrical performance to think about interactivity allows me to focus on the live body, as opposed to a technological device, as the locus of participation. Since technology evolves at a faster pace than does the body, this approach also yields a more enduring and consistent understanding of interactive spectatorship. By complementing this humanistic approach with a generative digital project in adaptation across media forms, I put productive pressure on a very familiar object of study, revealing long-held assumptions and destabilizing canonical authority. As the first example of a playable, true-to-the-text, action-oriented video game adaptation of a canonical dramatic text, Something Wicked embeds new critical possibilities. Building the game as an experiment in critical making has demanded a different scholarly engagement with Shakespeare's play, a productive meshing of a theatre director's approach with the granularity of translating an extreme close reading into actionable mechanics for my programmers to engineer. In addition to contributing to Shakespeare studies, my research aims to improve knowledge about audience interactivity as it manifests across a range of cultural contexts.
Back to top