NM Check
A comprehensive virtual care system that brings healthcare to patients
After Northwestern Medicine presented a design thinking challenge calling for a virtual care system that would increase the ability of its Primary Care Physicians to see more patients, four graduate students in the MS in Engineering Design Innovation (EDI) program collaborated on a forward-thinking solution to accomplish just that.
Problem
Eager to expand its patient base without sacrificing quality patient care or quality of life for its primary care teams, Northwestern Medicine desired a virtual care system that could serve 10 times more patients per each primary care physician. 
While Northwestern Medicine did not specify its target user group, the four students elected to design a virtual system aimed at healthy young adults, many of whom spend years of their life in a transient state after transitioning to independence. When this tech­savvy demographic encounters health issues, they frequently rely on Internet resources, such as YouTube or WebMD. The idea of entering a traditional healthcare environment is often too daunting to overcome, so they choose to bypass the healthcare system altogether. 
NM Check is intended to provide the young adult demographic with access to high-level healthcare resources in a manner that more appropriately leverages the technology and lifestyle they are accustomed to in the 21st century.Seph Lang, NM Check, Team member
Solution
NM Check is a comprehensive virtual care system that brings healthcare to patients – wherever and whenever they need it. The system consists of three main components that are engaged at different stages depending on the individual patient's required level of care:
CheckIN: a web and mobile­based health portal
CheckBOX: a system to deliver medical lab tests directly to patients
CheckRN: a virtual care system for patients to interact with nurses via video conferencing
Development Process
Using human-centered design and innovation concept rationale, the NM Check team: 
Conducted thorough research, including in-person doctor visits and phone interviews, to familiarize themselves with the current healthcare landscape and uncover pain points from the perspectives of both healthcare providers and patients
Ideated, which included brainstorming step, stretch, and leap ideas that were later analyzed for desirability, feasibility, and viability as well as associated risks and payoff
Developed assumptions about the future of healthcare, including factors such as insurance, virtual care solutions and other technological advancements, adoption, and healthcare facilities' continued movement toward more team-based care approaches
Current Status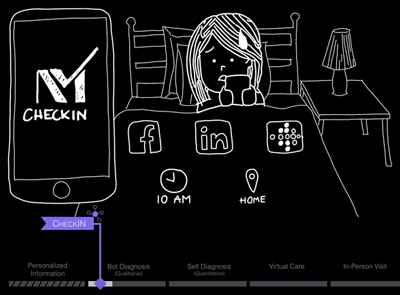 In late 2015, the NM Check team presented its solution to its Northwestern Medicine clients, a group that enthusiastically received the solution and noted its ability to potentially excite and inspire other healthcare experts into action. The NM Check team then handed off the project concept and details to the client for potential future development. 

Updated May 2016
Back to top