Design Strategy for iRobot
Students develop concepts for consumer robot company
Using creativity, empathy, and human-centered design, master's students in Northwestern's Engineering Design Innovation (EDI) program developed conceptual ecosystems for the consumer robot company iRobot as part of their course DSGN 455: Design Strategy.
"They were crafting new and original ideas within the framework of what is desirable to consumers, what is feasible in terms of technology, and what is viable in terms of iRobot's business model," said Professor Greg Holderfield, director of the Segal Design Institute, who teaches the course.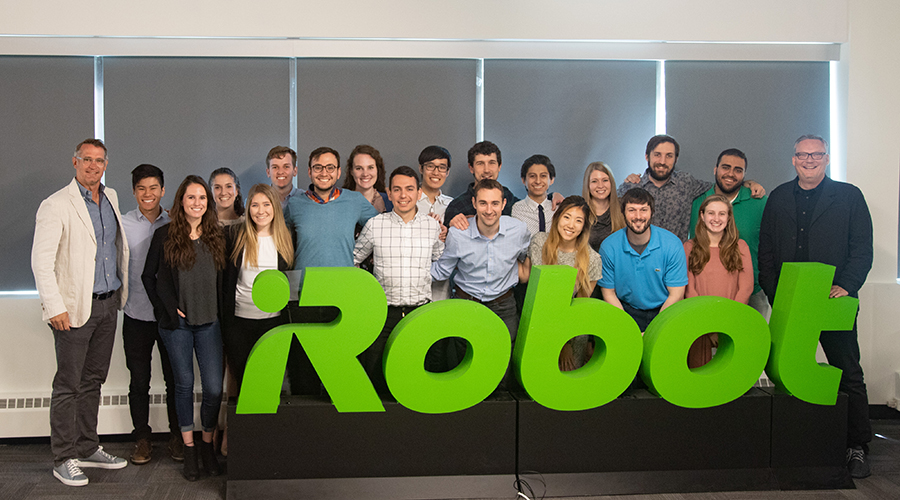 Empathy is key as we design solutions. We have to ask: 'What does the consumer really want compared to what do they say they want?' Ivan Calvachi, EDI '18 student
Throughout the spring quarter, four teams of five students in the EDI program developed real-world solutions for the Bedford, Massachusetts-based company which has a product line including the Roomba vacuuming robot.

The assignment: Innovate new platforms and new experiences for iRobot in the spaces enabled by technology and behavior.

"We asked them to focus on the sensors we have available and create more autonomous robots," said Rick Hoobler, iRobot director of user experience. 

The students, who signed nondisclosure agreements, were asked to develop human-centered strategies by considering what iRobot's aspirations and concrete goals are, where they should play, how to win against competitors, what capabilities were necessary, and what management systems are key to build and maintain systems.

"The students were brought in on the ground floor of strategic thinking for iRobot's future," said Holderfield.
Collaboration with iRobot
 The team at iRobot was involved throughout the quarter. At midterm, Hoobler and team members from iRobot's Product Innovation Group came to Northwestern's Evanston campus to offer feedback on the students' raw ideas.

"There was holistic thinking around the entire consumer journey, and they were not just looking at this product as a vacuum cleaner," said Hoobler about the in-progress work by the students. "It was impressive."  
'Empathy is key'
"Empathy is key as we design solutions. We have to ask: What does the consumer really want compared to what do they say they want?" said Ivan Calvachi, an EDI student, when reflecting on his experience in the Design Strategy course.

For the final project, the EDI students traveled to the company's headquarters to make presentations on their ideas to iRobot employees.

"Their work was engaging and insightful. I think it will be influential for the company," Hoobler said. 
Human-centered design sequence
The course taught by Holderfield concludes a human-centered design sequence that leads EDI students through product design, service design, interaction design, and, finally, design strategy.
In the fall quarter, EDI students partnered with
Procter & Gamble
to examine how physical products are designed to meet the needs of specific users. In the winter quarter, EDI students partnered with
Feeding America
while learning service design. At the same time, the students collaborated with startups at Northwestern's incubator hub,
The Garage
, as part of an Interaction Design course, focusing on interactions that bridge physical and digital spaces. In the spring quarter, the Design Strategy course provided EDI students an opportunity to combine their learning about designing within a strategic business context with an understanding of integrated design principles across physical, digital, service, and strategic platforms.
"The EDI program enables engineers to act on core skills of human-centered design; this class takes their thinking about the role of design in the context of business to another level," Holderfield said. "As innovation master's students, being a good designer and a good engineer is expected. Being a holistic thinker -- that's a space where true leadership can be found."
Back to top