Sustainable Play in a Box
Paige Hendersen (EDI '22) created an environmentally friendly subscription arts-and-crafts service for children for her Thesis in Northwestern's Engineering Design Innovation (EDI) program.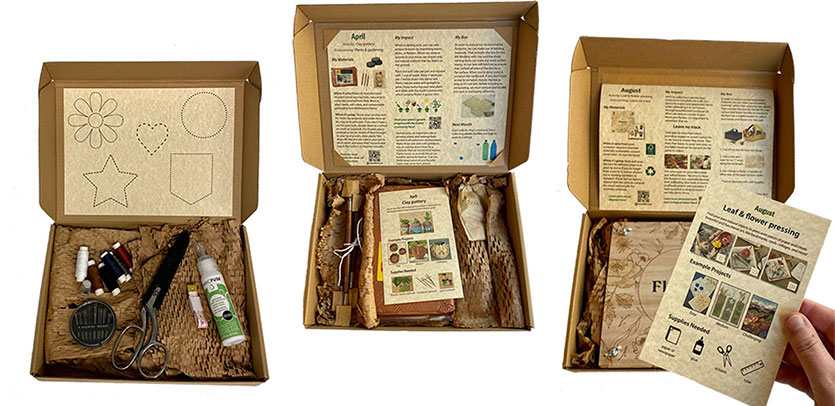 Early photos of a young Paige Hendersen often capture her in one of her two favorite environments. She is either seated at an arts-and-crafts table, creating things like gingerbread houses and models of flying dinosaurs; or she is outside in nature, standing in front of a cascading waterfall or wedged securely in the high-up branches of a tree. 
For her Thesis project in Northwestern's Engineering Design Innovation (EDI) program, Hendersen fused those two interests to create an environmentally friendly arts-and-crafts subscription service called EcoArt. 
Thesis is a two-quarter opportunity for students to take a deep dive into a subject they are passionate about. 
"I care about addressing environmental needs in everything I design, and I love designing for an audience of children," Hendersen (EDI '22) said. "Play is simply a fun topic." 
Fun, yes. But play is also environmentally costly. Hendersen's research for Thesis found that 90 percent of toys are made of new plastic and are used for just six months, with 80 percent ending up in landfills. Those findings led her to develop EcoArt, environmentally sustainable subscription arts-and-crafts boxes designed for kids ages 4-to-10. As children grow, the EcoArt boxes change to meet their new, expanded abilities. 
Monthly box themes range from creating reusable bags out of clothes to making clay pottery or designing art displays out of pressed leaves and flowers.
Hendersen said EcoArt provides a shared experience to facilitate environmental education through creativity. The boxes focus on less stuff and more activity, less technology, and more of a connection with the natural world. 
Her project revolving so much around front-end user research was a pleasant surprise to Hendersen, whose background is in mechanical engineering. Through the process, she learned how much she enjoyed the analysis, ideation, and synthesis of the research process.
"My skills in EDI really allowed me to pivot from my undergrad and full-time experience in mechanical engineering to the design field," she said. 
Today, Hendersen is a design researcher for Sylver Consulting, where she routinely relies on tools learned in the program, including frameworks, interview tactics, ideation exercises, and synthesis techniques. She is also more confident in her qualitative skillset and incorporating emotional intelligence into user research. 
Simply put, she would not be where she is today without EDI.
"I apply lessons from EDI every single day," Hendersen said. "I literally speak the human-centered design language at my job every day and would not have had this formalized design research skill set without EDI."