Imagining a Better Dating App
For her Thesis project, Kayli Fradin (EDI '22) developed a new, safer way for people to meet online.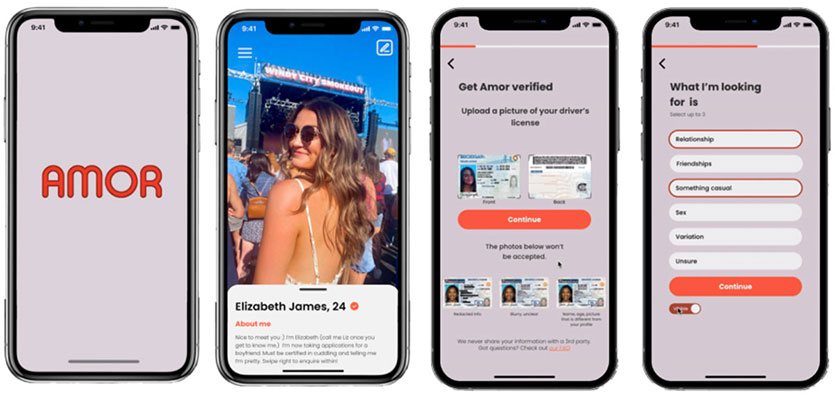 The offer seemed innocent enough. 
That was the thought Kayli Fradin (EDI '22) had as she interviewed a woman about experiences using dating apps. The woman recounted a time when a date ordered her an Uber to the place they were scheduled to meet.  
"Nice gesture, right? Wrong," Fradin said. "He purposefully ordered the Uber to somewhere quite far from her home, went to her house since he got her address by asking where the Uber should pick her up, and robbed her whole apartment while she was gone." 
That scenario is not a universal experience, but it speaks to the growing concerns about user safety. Fradin discovered that one in five women on dating apps reported being physically harmed or assaulted by someone they met online. 
Fradin wants to make online dating a little less scary. 
That's the goal behind the project she tackled for Thesis, the culmination of her time in Northwestern's Engineering Design Innovation (EDI) program. The class spans two quarters and allows students to take a deep dive into a subject of their choosing. 
For Fradin, that meant finding a better way than current dating apps to connect people searching for love. 
"When I was thinking about what topic I might want to cover, I vividly remember hearing story after story from people in my life about Hinge or Tinder dates gone wrong," Fradin (EDI '22) said. "Dating apps are currently the most popular way to meet a significant other, yet the safety stats are astonishing." 
Fradin's project conceptualized a safer dating app, which she dubbed AMOR. It conducts background checks on anyone looking to join and verifies every user with a photo ID to prevent catfishing. Fail either one and you're not allowed into the AMOR community. 
Beyond that, users can see what mutual friends they have in common with a potential date and reach out to learn more before meeting in person. If both people then want to move forward, the app will schedule a date at a partner restaurant or bar verified to be a safe meeting place. 
Finally, a post-date questionnaire asks things such as how safe each person felt during the date. Too many thumbs down and you're booted from the app. 
There is also no in-app communication tool to further emphasize user safety.
To date, AMOR remains a concept, not an actual app. Fradin transitioned straight from Thesis and graduation into two new jobs – one as a full-time interaction designer for RightPoint and the other as co-founder of Zebo, a startup educational platform for symptom-based cannabis users. 
Yet if the time and opportunity arises, she wants to make AMOR a reality. 
"I would love for this app to exist in real life one day," she said, "and genuinely think it would be successful."
For now, she is happy focusing on her new roles and new opportunities, both of which came thanks to EDI. At RightPoint, she was hired by one of her former EDI instructors, and she launched Zebo in partnership with former classmate Caroline Scheibel (EDI '22).
"As a designer who was thrown straight into the workforce post-graduation, I can say with certainty that had I not done a project like Thesis, I would not be nearly as prepared as I was to do this kind of work full-time," Fradin said. "My entire life played out the way it did because of my EDI education and network."