Human-Centered Design Takes Flight
SueSan Chen (EDI '18) shares how they apply human-centered design principles learned in Northwestern's Engineering Design Innovation (EDI) program to large-scale projects at United Airlines.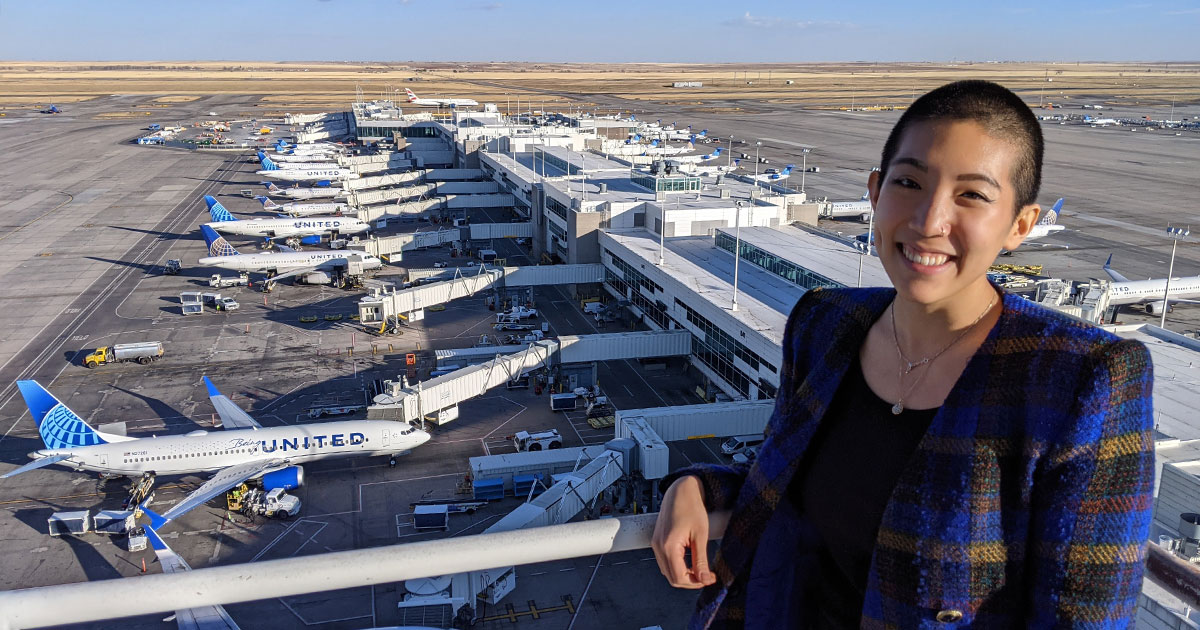 Human-centered design demands a change of perspective. For SueSan Chen (EDI '18), that meant acting as a traveler for a United Airlines commercial.
Chen is a brand principal at United. When the COVID-19 pandemic grounded air travel, they became part of the company's CleanPlus partnership project with Cleveland Clinic and the Clorox Company, aimed at alleviating passengers' concerns about flying. Chen spent nine months focused on understanding and then helping calm traveler anxiety, and ultimately wound up in the passenger seat for part of the campaign's marketing promotions (see video below).
When not appearing in commercials, Chen develops branded environments for United, including plane interiors, airport check-ins, gates, and lounges. On a daily basis, Chen meets with different United teams to help build a positive customer experience, starting with the airport and airplane settings, spaces used by thousands of people daily.
"Human-centered design gave me the framework for the people-first thinking that has been crucial to all of my various roles at United," Chen said. "Building innovative products, services, and spaces on such a large scale would not be possible without the empathetic and iterative mindset that comes with human-centered design."
Chen's passion for human-centered design was developed in Northwestern's Engineering Design Innovation (EDI) program, where they tackled coursework that often included corporate client projects. That real-world experience prepared Chen to immediately have an impact after graduation.
"I feel like I came into my full-time role with a lot more professional experience than most other graduates because of all of our client projects," Chen said. "I had a lot of practice developing and presenting ideas to different audiences and had an understanding of what industry leaders look for in new concepts."
Chen also credited EDI with giving them the confidence to listen to a problem and not feel like they immediately had to present the first solution that came to mind. 
"The most important lessons I learned from EDI is approaching every situation with naivete to make sure you answer the right question," they said. "When first starting a project, I always try to not take the opportunity at face value and truly identify the need we are trying to solve." 
Chen recently had the opportunity to apply those lessons to the new United lobby in Denver International Airport. A fully digital, animated back wall helps people more intuitively navigate through the airport, replacing traditional static signage. Chen also combined their passion for design and inclusion in Denver's new global services lounge, where work by local artists is displayed to help amplify the diverse voices in the region.
"Especially in such a legacy and regulated industry as aviation, there's always a standard solution," Chen said. "Pushing those conventions has helped me succeed in creating more empathetic and inclusive spaces."