From Moonshots to Better Health
Georgios Skoufalos (EDI '16) turned his time in the EDI program into a pathway to help focus product designs to alleviate people's struggles.
Georgios Skoufalos asks – and, more importantly, answers – a lot of tough questions. 
How can moonshot thinking accelerate the pace of discovery? How can people become a little healthier every day when they don't immediately see the impact of their actions? How are great meals created? 
Skoufalos' time in Northwestern's Engineering Design Innovation (EDI) program created a path to help him find answers to tough questions and boosted his career as a user experience (UX) designer. 
"The most valuable lesson for me was developing the ability to work with people to uncover the real needs behind their struggle," Skoufalos said. "It's in those struggles that we can make the biggest difference."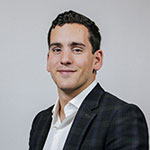 Skoufalos (EDI '16) spent two years after EDI trying to make that difference at X, the Google-affiliated Moonshot Factory. 
The concept of a moonshot came from President John F. Kennedy's 1962 speech at Rice University. There, he said the United States would put a person on the moon by the end of the decade, despite the fact that some of the technology needed wasn't even imagined at the time, outside of science fiction novels and comic books. 
Similarly, X exists to pursue projects that sound undoable but, if done, could redefine humanity. 
Skoufalos used his two years at X to help more than a dozen product and project teams define how emerging technologies could improve the lives of their users and become actual businesses that meet real needs. He worked as a user researcher on the X design team, which allowed him to support early stage product teams with generative research and product strategy.
In 2018, he made an alphabetic leap, opting to leave X to become a senior UX designer at Apple. He currently works on the Health Strategic Initiatives team, where he collaborates to develop products and partnerships within the health arena. Skoufalos played a leading role in Apple's partnership with the government of Singapore on a national health initiative using the Apple Watch. The project led to the creation of LumiHealth, an app that encourages healthy lifestyle changes through technology. The app provides personalized reminders, programs, coaching, and incentives for users to create healthy habits. 
"A big part of my work is understanding why people might struggle with being healthy every day," Skoufalos said. 
Searching for answers to broad types of questions is exactly what Skoufalos did in the EDI program, but instead of focusing on health, he wanted to explore creativity. For his thesis project, Skoufalos wanted to know how chefs come up with great meals and how he could help them maximize their creativity.  
The result was Zest, a mobile companion platform designed for chefs and others on their team. The goal was to help capture great ideas in the moment and then sharpen them over time with the help of trusted colleagues on the app to ultimately give restaurant-goers next-level culinary delights.
What he learned from that project is an approach he continues to apply today.
"Part of the creative process is messy," he said. "But that doesn't mean it needs to be cleaned up."