A First-Hand Look at Physical Therapy
Former Northwestern running back Jesse Brown (EDI '22) talks about how his experiences as an athlete inspired him to design a product for patients to stick with their physical therapy programs.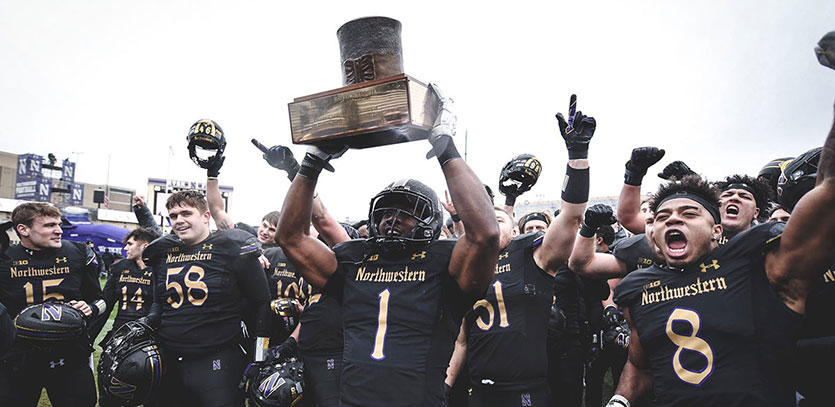 To say Jesse Brown is familiar with how physical therapy (PT) should work is an understatement. 
Brown, a former running back on Northwestern's football team, spent much of his athletic career recovering from one injury or another. The first major injury came in eighth grade, when he tore the anterior cruciate ligament (ACL) and meniscus in his right leg. Then with the Wildcats, he suffered a hamstring avulsion, a medial collateral ligament (MCL) tear in his left knee, an ulnar collateral ligament tear in his left thumb, and severe irritation in his right knee. 
Brown's dedication to recovery earned him the No. 1 jersey — a Northwestern tradition voted on by players and bestowed to the person who best exemplifies a committed work ethic, positive attitude, and team-first mentality. His personal experiences with physical therapy also inspired him to prototype a physical product to help patients recovering from injury stick to their PT regimen. 
Mehab was developed for his thesis project in Northwestern's Engineering Design Innovation (EDI) program.
"I have been involved in physical therapy and continued rehab for the majority of my 18-year organized athletic career," Brown said. "I've had good and bad experiences surrounding the recovery process, all of which were involved in what inspired and drove me for this thesis project."
Mehab focuses on the three main factors Brown found contribute to people not continuing with their exercises after being released from PT:
Education about their injury and the role their exercises play in addressing it 
Motivation to remain committed for what can be a months-long process 
Short- and long-term goal-setting and a means to track progress 
"Mehab solves this by addressing all three factors by connecting the personal education, motivation and goal-setting that occurs in-clinic with the PTs to the previously confusing and disconnected at-home exercises," he said. "(It) gives users easy-to-understand ways to learn, monitor, and adapt during the rehab process."
Thesis is a key part of the EDI program. It gives students two quarters to dive deeper into a topic of great interest to them. For Brown, it was natural to use the time as he did. 
"Thesis gives students an opportunity to work on and showcase two things they are passionate about: their chosen topic and their focus of design," he said. "It's a great final learning experience before you get going in industry or the next stage in life."
For Brown, that next stage will be a job as a mechanical design engineer on the hand tools concept team of Milwaukee Tool, a subsidiary of Techtronic Industries, which features brands like Hoover, Dirt Devil and Ryobi. He said the lessons learned in the EDI program, especially its focus on a holistic approach to design, will prepare him for success in his new career. 
"I learned a lot about the practical product design process," he said. "I learned to be comfortable trusting in my intuition and my experiences for how I should drive the way I design."
He also learned that he never faces any challenge – be it physical therapy or a new career path – alone. 
"I learned I have an incredible support system from family, friends, instructors, mentors and classmates who will go out of their way to help," he said. "I feel prepared to take on design projects in industry and confident that I have the capabilities of knowing how to progress in order to design a relevant and useful product."