Helping ICU Doctors and Families Communicate
Mengxue Bi (EDI '21) discusses her EDI thesis project and how she hopes to improve knowledge and understanding between clinicians in a hospital's ICU and the families of patients being cared for.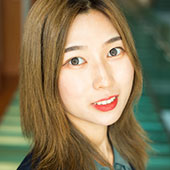 When the COVID-19 pandemic began in March 2020, national attention was placed on the challenges faced by hospital intensive care units (ICU) across the country. As the number of patients with the novel coronavirus skyrocketed over the summer of 2020, Mengxue Bi (EDI '21) focused on the communication challenges and opportunities for the medical team and patients within the ICU. While her research took place in the midst of COVID-19, she hopes the impact will be more wide reaching. 
Bi developed Accord as a mobile tool to bridge potential communication gaps between ICU clinicians and patient family members to provide care that is aligned with a patient's own care plans. Bi built Accord for her thesis project in Northwestern's Engineering Design Innovation (EDI) program based on her experience interning with Northwestern Medicine.
"I am passionate about healthcare and always knew I wanted to do something healthcare-related for my thesis project," Bi said. "I thought this topic about communication in the ICU would be meaningful, and I wanted to deliver something that was going to make an impact." 
Accord has two components. The first part is intended for next of kin to reflect on the patient's values and goals for care, while the second includes a graphic aid for doctors to deliver their prognosis. 
The following four-step process is designed for families to feel more in control about the care provided to their loved one:
Reflect – An ICU care team member guides the family through the reflection process and asks them to talk about the patient's normal lifestyle and health priorities

Articulate – Families use Accord to describe and explain the patient's goals for care

Care Meeting – ICU doctors leverage the graphic aid in Accord to clearly illustrate the patient's prognosis

Track – Families and clinicians can use Accord to track prognostic changes while keeping the patient's desire top of mind
When it came to conducting research for Accord, including implementing design-thinking methods learned in EDI, Bi faced a wide array of challenges due to COVID-19.
"Ideally, we would want to shadow doctors in the ICU and observe their interactions with patients and families in real settings, but the pandemic made it impossible," she said. "A bigger challenge was to get access to patients and families." 
Bi also struggled with creating a product for multiple audiences with different and unique perspectives. Her attention was on both families and clinicians, and sometimes the interests of each conflicted. For example, Bi wanted to have a product that clearly explained a patient's condition and treatment options so family members could better understand their relative's outlook. She realized that clinicians don't always want to "pin-point" an exact diagnosis or explanation as conditions can frequently change.
"Working on this project and talking to users, stakeholders, advisors, and peers along the way helped me become more fluent and confident in communicating a complex idea or concept to my audience with different levels of knowledge about the topic," Bi said. "This is extremely valuable no matter what industry I work in.
"I can now explain what design-thinking and human-centered design principles and processes look like, and I can be more confident in validating my design decisions."
This post is part of a series of stories that examines EDI thesis projects.