EDI Students Look 'Through the Looking Glass'
First-year students in the EDI program were inspired by Alice in Wonderland as part of their Design Boot Camp orientation workshop.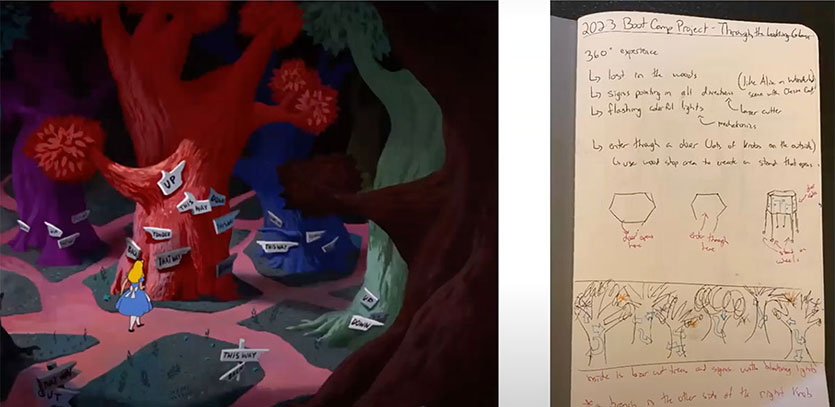 Northwestern's Engineering Design Innovation (EDI) program is structured so students learn to address design problems using a human-centered approach. To put yourself in someone else's position and understand the challenges they face, it's necessary to have a firm understanding of yourself — who you are as a person, what makes you tick — so you can recognize what you personally bring to any design problem.
"There is a curiosity and vulnerability necessary in human-centered design," EDI co-director Amy O'Keefe said. "To really know and care for people you're designing for, you first have to have a sense of yourself and an understanding of what you bring to the process."
To do that, first-year EDI students channeled Alice in Wonderland and the notion of liminality — the act of passing from one state to another — as part of EDI's Design Boot Camp, a two-week, pre-term orientation workshop designed to familiarize new students with the people, resources, tools, and activities that will define their EDI experience while helping them build relationships with faculty members, staff, and classmates. 
Boot Camp is meant to help new students learn design tools, cultivate self-awareness, and build relationships. It is organized in large part by second-year EDI students. and when O'Keefe talked with this year's student organizers, the idea of liminality came up as a possible theme for Boot Camp. The idea stuck.
"We were inspired by the story of Alice in Wonderland and how Alice enters a new, fantastical world by passing through the looking glass, where things are very different than she expected," said Justin Reimonenq (EDI '22), who co-led Boot Camp with Liying Peng (EDI '22). "This feeling of unfamiliarity, ambiguity, and disorientation that occurs when transitioning between stages in life is something that we're still going through as second-year EDI students and that the incoming students will definitely become more familiar with as they transition to be full-time EDI students. 
"So, we thought it would be a great opportunity for them to use this theme to imagine what their bootcamp experience and EDI experiences could be like."
First-year students were tasked with creating a "Through the Looking Glass" project that would open up their imagination and create their own visions of wonderland with their projects. The instructions were open: Be creative, be absurd, try new techniques, don't be afraid of failure, and tell a compelling story. 
From a joke-telling pixel bot to a clock made out of malleable metal to a 360-degree immersive display, the results were a wide range of physical and digital pieces of art, each of which demonstrated a self awareness that will benefit the students moving forward. 
"We were really impressed by the diversity and quality of their work," Peng said. "They built some really high quality objects that blended the digital and physical, and they took the prompt and creatively blended with their perspectives and stories in a short amount of time."
Reimonenq agreed.
"We want the students to shed the constraints they experienced in their prior education in engineering and other fields and to start thinking outside the box," he said. "Boot Camp is an opportunity for them to start letting their emotions guide them through the creative process and to start building their creative confidence by building something of their own before they have to start building empathy for users in the human-centered design process."