Designing Their Own Design Studio
Nicholas Daniel Phillips (EDI '17) and Sergio Marquina (EDI '17) launched Studio 2133 after spending two years as classmates in Northwestern's Engineering Design Innovation (EDI) program.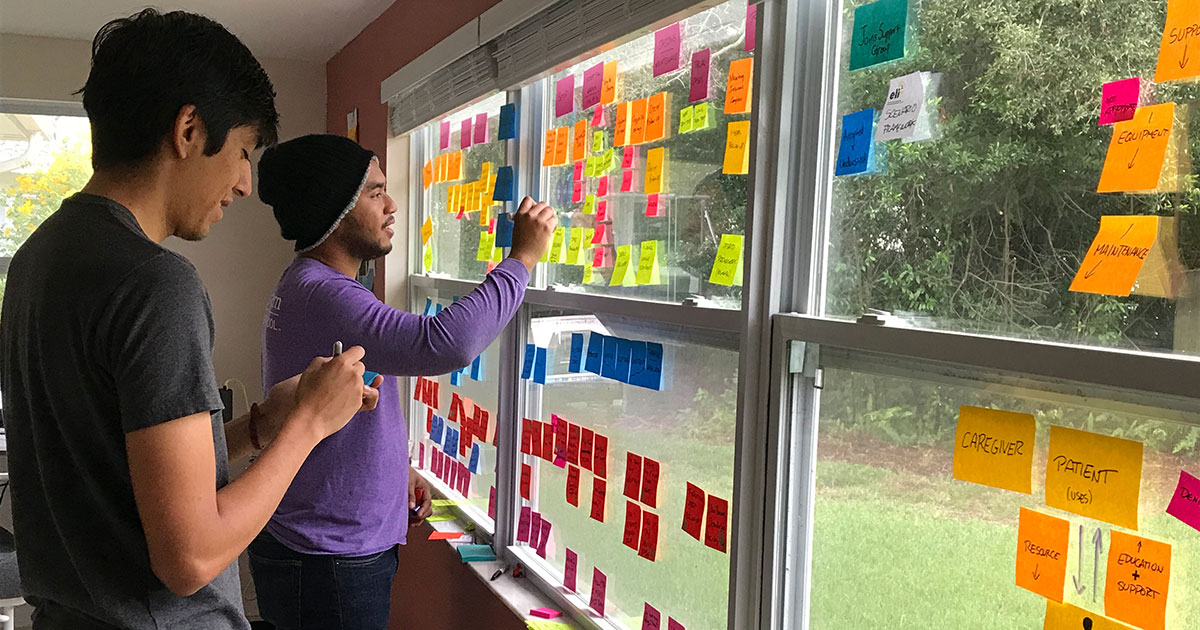 Nicholas Daniel Phillips (EDI '17) and Sergio Marquina (EDI '17) came to Northwestern's Engineering Design Innovation (EDI) program with different goals — Phillips wanted to help companies launch new products that solve customer problems, while Marquina had his sights set on launching his own company. The two were never on the same project team in class, but soon after graduation, an opportunity to work together presented itself, and the duo jumped at it.
"More than three years later, we are still going," Marquina said.
Phillips and Marquina launched Studio 2133, a product design consultancy dedicated to articulating and moving ideas forward. Their passion lies in using design to help clients grow their companies. Their projects vary, from developing a modular consumer hydroponic system that seamlessly integrates its multiple elements (structure, plumbing, and electrical) in a modern and straightforward package to helping a new venture capital fund establish its visual identity.
The hydroponic system was developed for Rise Gardens during a collaboration with TBD Innovation. The Studio 2133 team was involvedfrom concept refinement to engineering design. Studio 2133 did ethnographic research, user testing, feature definition, concept exploration, user experience design, industrial design, product architecture, and prototype development.  
The product was successful, and Rise Gardens turned to their design partners again to create the Rise Mini, a system that has the same hydroponic system technology as the original but in a smaller, more affordable package. The Rise Mini was selected as one of Newsweek's "Best Products of CES 2021."
Marquina and Phillips said that success happened because of their ability to understand the problem at hand.
"We tailor to our clients' needs instead of selling them what we want or might necessarily be the easiest for us," Phillips said. "We joke that we never do the same project twice because every client's needs are different. We are more interested in solving their problems and potentially uncovering new ones rather than trying to convince them we have the correct answer and package cookie-cutter deliverables that might not be the right thing for them."
The two view their business as a reflection of the blend they found in EDI — they call themselves more technical than traditional designers more "designer-ly" than conventional engineers. They learned in EDI that design is fluid and ambiguous. To excel, they took courses in a wide range of disciplines, including business, marketing, engineering, and learning sciences. Those experiences helped them understand how to look at obstacles in unique ways and work with people from a wide range of backgrounds.   
"EDI allowed us to see and learn from many different  perspectives, allowing us to form our own," Marquina said.
EDI is also responsible for their studio name. The number 2133 is the building address of the Ford Motor Company Engineering Design Center, where the EDI program and Segal Design Center are housed.
"The name is a reminder of where we laid the foundation for our approach to design," Phillips said. "It's a nice reminder of where we came from."