Northwestern Students Apply Design Thinking to Legal Service Delivery
Event brought together students, advocates, and educators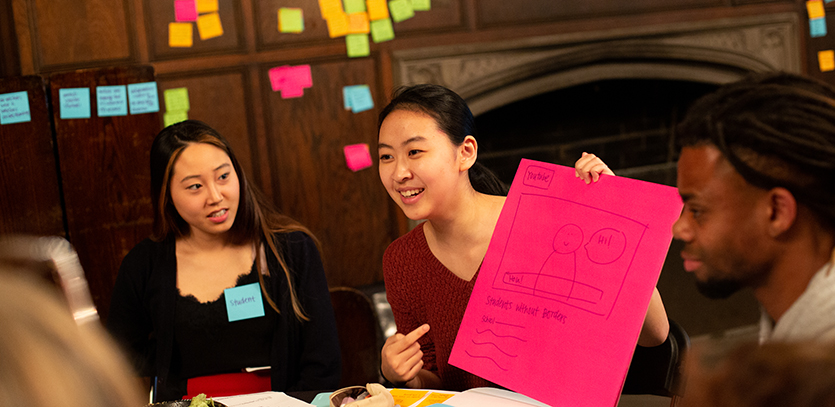 Twenty-four students from Northwestern Pritzker School of Law and Segal Design Institute's Master of Science in Engineering Design Innovation (EDI) program teamed up recently for Design + Law, an event that focused on design thinking as a problem-solving approach for legal service delivery. 
The event was held at Northwestern Law on February 27 and featured welcome remarks from Dean Kimberly Yuracko of Northwestern Law and Dean Julio Ottino of Northwestern Engineering. 
During the event, participants were challenged to design more effective methods for delivering know-your-rights information to young people affected by the US immigration system.
Alyson Carrel, Assistant Dean of Law and Technology Initiatives at Northwestern Law, was inspired to organize the event after attending a talk on legal design, which is the application of human-centered design to the world of law. Carrel reached out to the Segal Design Institute at Northwestern Engineering about working together to make the event a reality.
Amy O'Keefe, Studio Director for the EDI program, leveraged her background in designing new technology products and services for large law to help Carrel create the event.
"I think the event was a huge success," said Carrel. "It generated a lot of excitement and interest about design in this legal context both from folks at the design side as well as from the law side."
During the event, the Northwestern Law and EDI students interacted with advocates, educators, and youth to identify opportunities for design solutions. Eight high school students from the Boys Hope Girls Hope scholars program joined their teams to share their unique perspectives.
Uzoamaka Emeka Nzelibe, a Clinical Associate Professor at Northwestern Law where she is also a Staff Attorney with the Children and Family Justice Center of the Bluhm Legal Clinic, explained to the teams what it is like lead a know-your-rights presentation.
Next, O'Keefe and Jennifer O'Shaughnessy, a private attorney who has experience in design, walked the participants through the design process.
After that, the teams began ideating and prototyping. Each team had a quick round of testing during which faculty members from Northwestern Law and the Segal Design Institute provided them with feedback. Then the teams did a round of iterating based on that feedback. The event concluded with a share-out. Proposed solutions included a flat object with a script printed on it and a pocket for a warrant that could be slipped under a door, a toy that could record instructions from parents for their children, and a high school club to share videos about different aspects of immigration law.
Julia (Hyun Young) Lee, a Northwestern Law student enrolled who participated in the event, appreciated the interdisciplinary nature of the teams.
"Law students are not used to being asked why. Instead, we're almost always asked to provide the 'right' answer," said Lee. "The EDI students helped break us out of our boxes to think creatively."
O'Keefe explained how bringing the three student populations together streamlined the design process.
"This was a great opportunity for all of the students to experience benefits of collaborative design together in real-time," said O'Keefe. "While the EDI students led the design process, the law students shared knowledge about immigration laws, and the high school students represented the youth perspective. With key stakeholders at the table together, they were able to navigate design opportunities and challenges quickly and effectively."
After the event, Lee said she felt that there are many future applications of design to the legal system.
"One of the key issues in the field of law is that the system was developed by those who were not in difficult legal situations," explained Lee. "While many of the legal procedures and the black letter law are theoretically smart and practical, things are much different in practice. Human-centered design allows us to walk the walk of those whose lives are drastically affected by the law."