Amy O'Keefe
Director, EDI program
Clinical Assistant Professor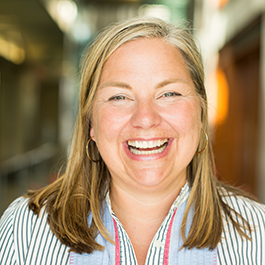 Contact Info
2133 Sheridan Rd., 3.323 Evanston, IL 60208
847-467-4275
Affiliated Programs
About
Amy O'Keefe is the Director of Northwestern University's Master of Science in Engineering Design Innovation (EDI) program, where she leads the Human-Centered Service Design Studio.
 
Amy frequently partners with physicians and healthcare organizations to bring a human-centered approach to addressing complex medical issues.  Amy has consulted on service, experience, and integrated multi-channel initiatives for Fortune 50 retail and global Am Law 100 clients. Her professional background includes more than a decade leading multi-disciplinary service, product design, and development at a Chicago-based tech startup acquired by Thomson Reuters.  Amy received her MS in Product Design and Development Management from Northwestern. As an undergraduate, Amy embraced the Liberal Arts, majoring in English at Davidson College and studying Architecture in Florence, Italy.
 
A sampling of Amy's recent studio collaborations includes: a partnership with Procter & Gamble that led to the 2016 launch of the integrated laundry service, Tide Spin; engagement with Northwestern Medicine and Lurie Children's Hospital resulting in lead findings presented at the 2016 American College of Allergy, Asthma and Immunology (ACAAI) Annual Scientific Meeting; and engagement with Penn Medicine's Anesthesiology and Critical Care team informing the best practices for patient awareness and management of postoperative delirium discussed at the 2016 American Society of Anesthesiologists' Brain Health Summit.
 
She is a founding member of the Integrated Design Innovation consortium (IDI) and is working with colleagues from peer programs at University of Pennsylvania, MIT, Carnegie-Mellon, Harvard and several other schools to establish, evolve, and expand the category of Integrated Design Innovation programs in engineering education.
Education
MS, Product Design and Development Management, Northwestern University, Evanston, IL
BA, English, Davidson College, Davidson, NC
Back to top