EDI Students Win dmi:Design Value Award
Okakopi system offers sustainable feminine care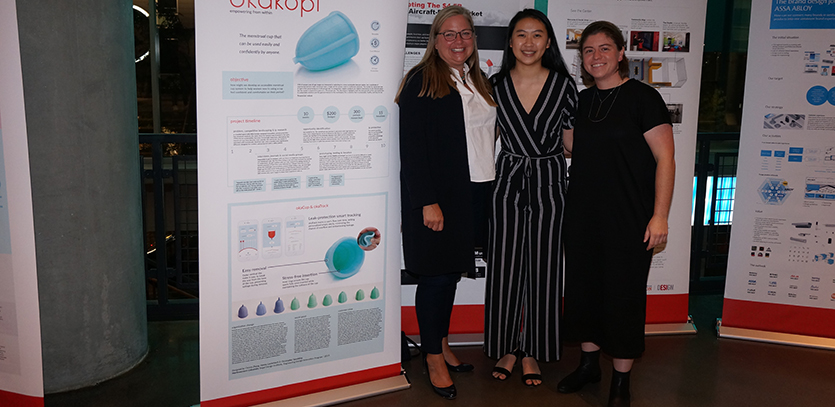 A team of EDI students were named dmi:Design Value Award winners this fall for an innovative menstrual cup system. Their product, Okakopi, is aimed at making cup usage easier and more comfortable, particularly for first-time users. 
Team members Christy Zhang (EDI '19), Hanna Lauterbach (EDI '19), and Chris Spaulding (EDI '19) were honored as third place winners at a ceremony in Boston this September. The dmi: Design Value Awards recognized teams who have delivered significant value through design or design management practices in their projects.
Okakopi seeks to fill a gap in a menstrual market that lacks easy-to-use, intuitive cups by utilizing two The okaCup design has patent-pending ribs and rings that make sealing and removal easier and mess-free. The team paired the okaCup with okaTrack, an app that tracks flow and alerts users when to empty their cup. The combination aims to make the whole process less intimidating, giving users confidence and comfort.
"Sometimes it feels awkward to talk about a period product," said Lauterbach. "But the dmi community was not only accepting but also excited about the work we're doing. We're proud to see that the value of our research and design is recognized outside of the Segal community and we're excited to continue working on our product over the course of this fall quarter."
The team began the design process as "Team Maya" last spring, when they entered and won the White Space Design Challenge, a competition organized the Product Development and Management Association. Later that month, they became semi-finalists in VentureCat, a Northwestern program that mentors student start-ups and culminates in a pitch competition.