Unlocking an Internship
Rising senior Pratham Bansal turns a design class project into an internship opportunity in the electrical vehicle industry.
With his final undergraduate summer approaching, Manufacturing and Design Engineering (MaDE) student Pratham Bansal began investigating potential internships with companies in the electrical vehicle (EV) space.
Immediately, though, Bansal noted a problem. Most established companies favored previous experience in the EV/energy space, something Bansal didn't have.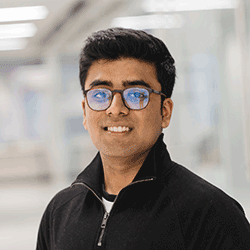 So, Bansal, eager to understand "the nitty-gritty" of a fast-moving industry, shifted his focus to startups. He figured an upstart company might be more flexible on past experience while also potentially providing him an opportunity for more hands-on work and deeper insights into the EV market.
But once again, Bansal hit a wall. He found few startups possessed the resources or bandwidth to host interns.
Fortunately, Bansal is a bit daring and a creative, resourceful thinker who saw a way to leverage his studies at Northwestern's Segal Design Institute to unlock opportunity.
The classroom as a launching pad
While enrolled in DSGN 395: Digital Product Development during his junior year, Bansal worked on a real client project for a mobile parking company eager to expand its usage among EV owners.
During an intensive spring quarter capstone, instructors Bridget McMullan and Stacey Wolcott led students through a real world project covering the entire end-to-end product development lifecycle. In a low-risk environment mimicking the experience of a newly hired digital product manager or designer, the instructors offered concrete feedback and armed students with skills and language that resonates in the marketplace.
"Digital product design and innovation evolves at a rapid pace," Wolcott said. "It can be messy, unpredictable at times, and hard to stay relevant. This course is designed to equip students with the latest knowledge and skills to be competitive in a fast-moving job market."
In addition to delivering a final prototype — a tool for EV owners to see available EV charging locations and pay for the service directly in the mobile app — as well as a recommendations report to the client, Bansal's team also produced a public-facing white paper to complete the course. For Bansal, that white paper — a document detailing his team's solution and its multi-layered approach to developing a thoughtful, user-friendly fix — became a central ingredient to his internship pursuit.
He contacted some 120 startups, introducing himself and sharing his DSGN 395 white paper. About 35 companies responded and Bansal had calls with seven companies. One of those firms, Synop, which makes charging management software for EV fleets, was so impressed it created an internship position exclusively for Bansal.
"Pratham was unique in trusting the process we taught and applying it in relevant moments," McMullan said of her former student. "The fact he took his future into his own hands, sent that white paper to prospective companies, and then locked in a job shows his natural tenacity and talent."
Creating beneficial experiences
 This summer, Bansal spent eight weeks at Synop's New York headquarters. Working alongside the company's chief technology officer, product manager, and product designer, Bansal applied DSGN 395 lessons about user personas and user journeys to help Synop develop a mobile app prototype enabling fleet managers to diagnose and troubleshoot charging station issues on site.
"In a competitive field, Synop has to move fast and I was a resource for them to design new features and work on product strategy," said Bansal, who hopes to secure a product designer role in the EV/energy industry upon graduation next June. "The internship experience showed me the complexities of the EV space and the business decisions a company must make to remain competitive."
As for McMullan and Wolcott, Bansal's journey highlighted something else: the transferability of classroom skills to real-world problems and career opportunities. 
"The simple formula is that experience equals stories, which informs employers how you think and approach challenges," McMullan said. "And how you think is what gets you hired."