Designing Compelling Performances
In DSGN 395: Performance and Technology, students collaborate across disciplines to create technologically enhanced, movement-based performances.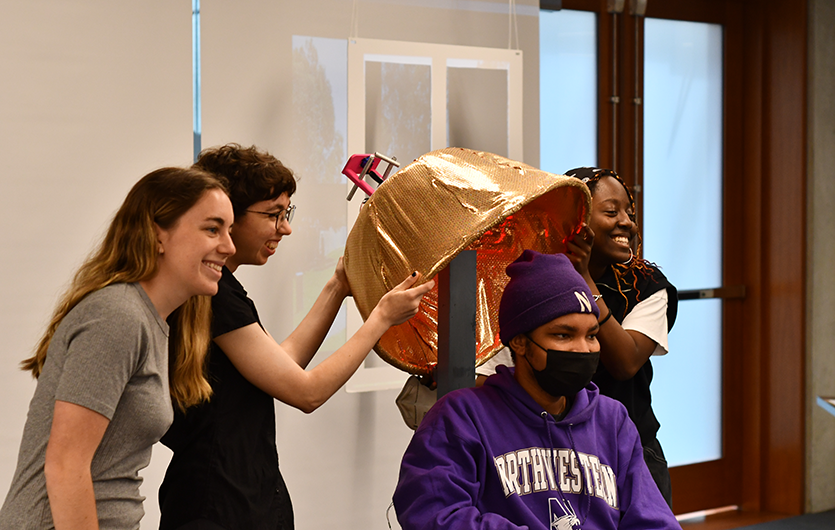 How do you design something that tells a story or helps others feel an emotion? Students in the Segal Design Institute's DSGN 395: Performance and Technology course are answering this question in inventive ways.  
Taught by Segal Fellow and School of Communication professor of theatre and performance studies Thomas F. DeFrantz, the course mixes creativity and engineering as students explore how to use emergent technology in performance via robots, media, and computer interfaces. 
It's a concept DeFrantz taught at Duke University, where he served as professor and chair of African and African American studies and professor of dance, and the Massachusetts Institute of Technology, where he chaired the women's and gender studies program and led the concentration in physical imagination. DeFrantz, who earned his PhD in performance studies from New York University, brought the course to Northwestern after joining the faculty in January.  
"The course brings together my many areas of interest and academic exploration as we ask questions about 'physical computing' through live-processing interface design,'" said DeFrantz, who also directs the SLIPPAGE lab at Northwestern, a research group that explores intersections of performance, culture, and technology.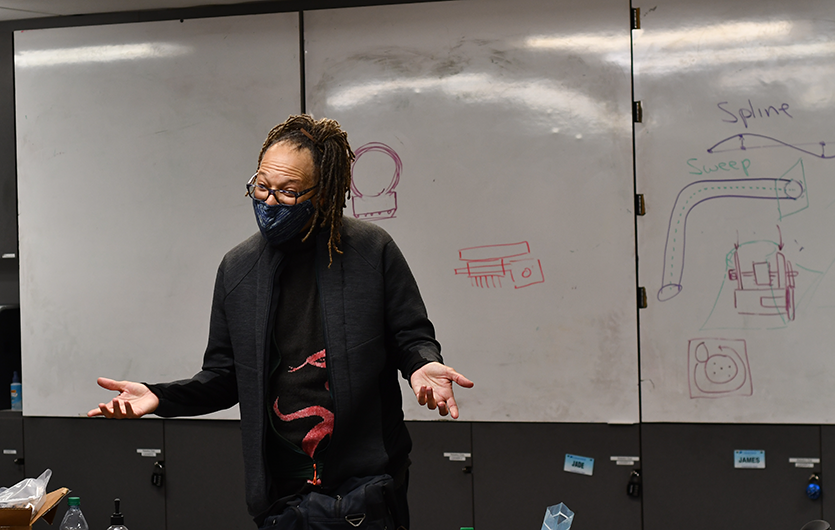 Students use basic mechatronics to create compelling movement-based performances. They gain experience using the OpenNI and Isadora programs, crafting Arduino and Raspberry Pi boards, and learning circuit design and fabrication. They also engage in moving-body explorations and discuss the theoretical and historical implications of technology in performance. With no previous engineering experience or programming skills required, the course is open to all majors.  
"This class is of special interest to engineers, who wonder how to reignite creativity inside of design, and for creative artists to better understand how to organize computational modes of thinking and design," DeFrantz said. "We gather together and learn from each other. In this, the course models a decolonized classroom, as everyone's input is as important as everyone else's." 
For Engineering Design Innovation student Clark Mitchell (EDI '23), the course offers students a chance to broaden their horizons. 
"It takes people from technical backgrounds and gets them moving and acting in ways they never have before," Mitchell said. "It lets people from performance backgrounds interact with what goes on behind the scenes and understand how to make it themselves. It's one of those classes that not only mixes people, but also lets you mix how we all interact." 
Mitchell's final performance explored the intricacies of social interaction. Mitchell's group's project involved designing a cube with touch sensors on the inside that triggered lighting effects and a word upon both touch and release. 
"We used these words to craft a story between three people and show how they interact, both with each other and with the linguistically based setting they're in," Mitchell said. "It's about social interaction and how putting in so much effort and attention with one person can cause neglect toward another." 
For the final project, each small group deployed a moving-part Arduino-inspired robot into a performance that included prepared media, video projection, an Isadora sketch, and a skeleton-based gestural computing aspect, DeFrantz said. Since the performers are embedded in the live-processing aspects of each presentation, students must stretch their human-centered design creative capabilities. 
"It's a high bar of interactive pieces to bring together in the course of a quarter," DeFrantz said. "The projects are always surprising, which is also one of the impulses to make art — to inspire an unexpected reaction to an event or an experience." 
Watching everyone's projects develop and change was fascinating for Mitchell. One of the things Mitchell enjoyed most about the course was learning how to use Isadora, an interactive media presentation program, to create performances and interactive installations. 
"The fact that there's this giant program with so much capability that we can use as we would like is astounding," Mitchell said. "I can't wait to keep playing with Isadora after this class and seeing if I can work it into any other projects."