White Space Design Challenge
More than 75 students attended kickoff event at Northwestern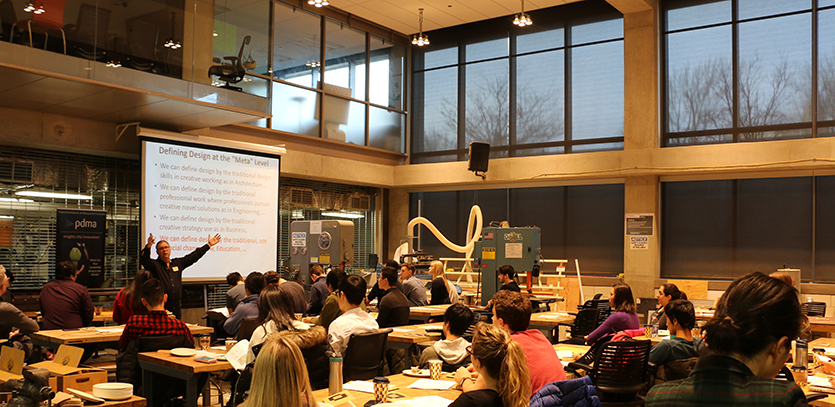 On January 27, seventy-seven students from Northwestern, Illinois Institute of Technology, Purdue University, and the University of Illinois at Chicago gathered on Northwestern's Evanston campus to kick off the White Space Design Challenge.
The White Space Design Challenge is a competition organized by Segal Professional Bridge, a student group, and the Product Development and Management Association (PDMA), a professional society. Over the course of the next two months, teams from each school will identify unmet customer needs, map product strategy, and lead a product launch.
The student organizers of the White Space Design Challenge are Kira Akemi Furuichi, an undergraduate studying Computer Science and Sociology, and Enes Umur Gokcek, a graduate student pursuing a Master of Science in Engineering Design Innovation.
"We are so excited to connect Northwestern students with other universities' design students, and also to provide everyone with opportunities to meet with PDMA mentors," said Gokcek.
During the kickoff event at Northwestern, students heard a presentation aboutdesign thinking and research from Dan Brown, a clinical professor at the Segal Design Institute. Brown said that the White Space Design Challenge presents a unique opportunity for the students.
Brown said, "I am most excited about that this challenge is focused on the research process of creating a competitively advantaged product design, versus the common business plan competition where often the product competitive advantage is missing or yet to be developed."
Students also participated in a hands-on activity with potato peelers led by David Gatchell, director of the Manufacturing and Design Engineering (MaDE) program.
"[I want to open] their eyes to importance and benefits of benchmarking current solutions," said Gatchell. "Through the vegetable peeler activity that they participated in, they were quickly able to see that commercially available products often fall short of meeting consumers' needs." 
Ron Worth, an adjunct lecturer with the Mechanical Engineering department, led an activity to teach the students about reverse engineering. Worth was one of the engineers behind IBM's Proprinter II, a pioneering low-cost printer created in the 1980s that is noted for its advances in design. During the kickoff event, Worth helped students disassemble the machine, reassemble it, and then successfully print with it. 
"The interactive activities presented by Professor Gatchell and Dr. Worth were incredibly informative and encouraged attendees to get to know each other," said Furuichi.
During the next stage of the competition, teams will submit their research for a panel of PDMA-affiliated mentors to evaluate. Then, teams will create prototypes and give final presentations at the PDMA Annual Conference in Chicago on April 13.