Taking on Food Insecurity
EDI students work with Feeding America to address hunger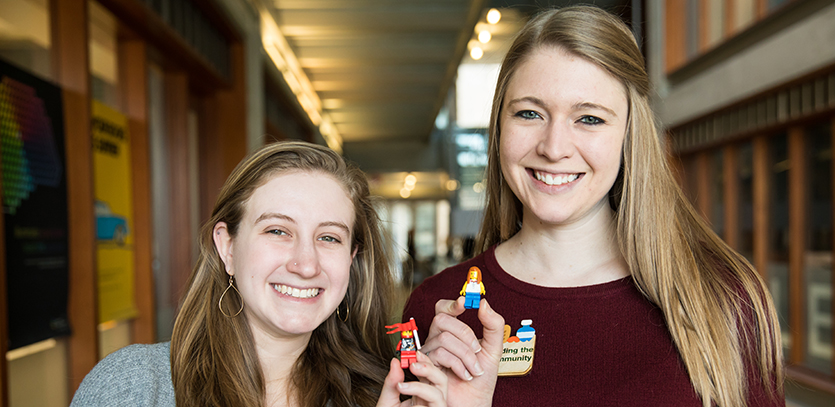 In the U.S., where an estimated one in every eight people struggle with hunger, food insecurity – a household's inability to provide enough food for everyone to live an active, healthy life – remains a pressing national and human issue.
As one of the nation's largest hunger-relief organizations, Feeding America addresses food insecurity with a network of food banks across the U.S. serving some 46 million people each year.
In a recent Service Design course taught by Segal Design Institute faculty Amy O'Keefe and Elisa Vargas, twenty students developed innovative new ways for Feeding America to get food into the hands of those who need it most.
The Task 
Feeding America charged students to create new strategies to rescue foods from retail and bring those goods into the Feeding America ecosystem. Dan Butt (EDI '13), Feeding America's senior manager of innovation, encouraged students to challenge the nonprofit organization's orthodoxies and assumptions while producing something tangible that could advance internal conversations as well as dialogue with external partners.
The Process
Over the 10-week course, four teams, each consisting of five students, immersed themselves in food insecurity research. Teams analyzed current solutions, observed the operational workings of agencies and interviewed Feeding America representatives and stakeholders across the spectrum, including retail workers and individuals facing food insecurity.
"Feeding America provided us access that allowed us to understand the complexities of a vast problem," said Shoshi Shapiro (EDI '18). "By understanding the system so well, we could develop realistic solutions with the potential to really impact people."
With intent and empathy, teams then crafted their solutions and began testing ideas in the marketplace by visiting food banks, retail store, and various public venues to gather firsthand feedback.
"Service design is all about human interactions and touchpoints and each team saw that very clearly while they were prototyping," Vargas said. "Students were able to experience how real people were affected by their concepts."
The Solutions
On March 14, the four teams unveiled their solutions to classmates, instructors and Feeding America representatives at the Ford Design Studio.
Team Disrupt created NeighbourFood, a network-based food delivery program that consisted of individuals experiencing food insecurity serving those with limited mobility.
To increase food donations at retail, Team Delivery unveiled a program that incentivized grocery store employees with tangible benefits.
Team Personalize introduced Bridge, an online platform for food suppliers, volunteers, patrons and agencies to share information and connect.
Team Connect presented enRoute, a mobile locker food truck that brought discretion, security, efficiency, flexibility and convenience to those facing food insecurity.
"The solutions were impressive," Butt said. "Each team considered different stakeholders and the problems they're encountering as well as the front end, such as who and what an end user would interface with, as well as the back end, such as how information would flow from one group to the next."
Moving Ahead
Students found the Service Design course and its project both educational and inspiring.
Team Connect's David Jacob (EDI '18) said the course broadened his perception of design.
"We had to consider so many caveats and all of the different people involved to make a viable solution, and that's a lesson I can take into any design project moving forward," he said.
For Shapiro, the course provided insights into a growing field that connects services to individual's needs.
"Service design is a field I feel particularly connected to so I appreciated learning how complex problems could be broken down into manageable components," she said.