Designing for Inclusion in 24 Hours
Northwestern hosts Integrated Design Innovation Challenge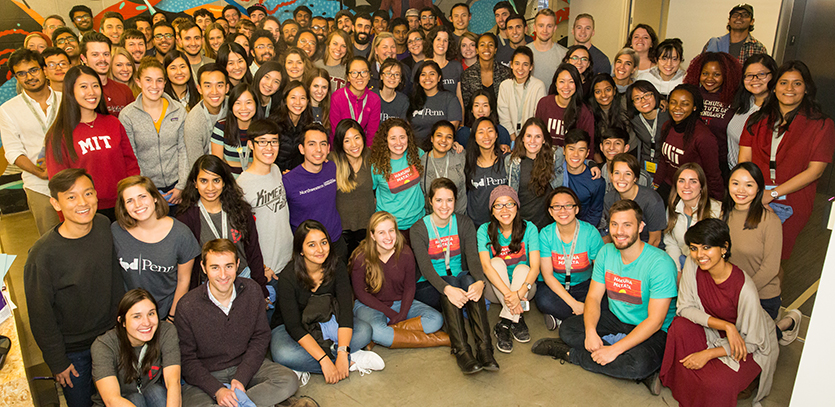 The fifth annual Integrated Design Innovation Consortium (IDI) Design Challenge began with a simple invite to the nearly 100 students gathered at Chicago's Shirley Ryan AbilityLab on October 27: step out into the hallway, sit in a mechanical wheelchair and experience for yourself the task of navigating a different type of mobility for the first time.
As students tentatively adjusted hand controls and traversed the packed hallway, one student placed water bottles along the floor to create an impromptu obstacle course, a test that only further underscored the unanticipated challenges people in wheelchairs routinely face.
Within 24 hours, teams of graduate students from four of the IDI Consortium's founding institutions – Northwestern EDI, University of Pennsylvania IPD, MIT IDM and Carnegie Mellon MIIPS – presented design prototypes intended to help those with permanent or situational disabilities plan and navigate discrete urban areas with greater ease, efficiency, and confidence.
Understanding the issues
Hosted by Northwestern University's MS Engineering Design Innovation (EDI) program, the 2017 IDI Design Challenge built off this past summer's Design for America (DFA) Leadership Studio challenge: Urban Accessibility. The IDI Design Challenge encouraged students to explore and understand first mile/last mile travel challenges, specifically challenges people with differing abilities encounter between such destinations as a parking lot and the doctor's office or a store and the nearest accessible public transportation platform. This focus made the Shirley Ryan AbilityLab the ideal starting point.
Opened in March 2017, the Shirley Ryan AbilityLab (formerly know as RIC, the Rehabilitation Institute of Chicago) serves patients with complex conditions requiring care and rehab services following a hospital stay. Blending research and patient care side by side, AbilityLab leaders spent nearly a decade plotting their new 1.2 million square foot space, relying heavily on design thinking to create a novel, contemporary facility that empowers and inspires recovery.
Students took guided tours of the AbilityLab, visiting distinct spaces devoted to arms + hands,  legs + walking, a replica home environment for practicing activities of daily life, and a state of the art patient room while also meeting with researchers and AbilityLab staff to learn about the facility's therapy tools, its rehabilitation philosophy, common patient challenges and ways in which human-centered design was woven into the modern complex's construction.
"This is a program we were excited to be a part of given our educational mission, our passion for design work and our eagerness to promote thinking around issues of great importance to us," said Rebecca Bagdy, executive director of the Academy, the AbilityLab's not-for-profit educational arm.
After recounting his own challenges as a law school student in a wheelchair in the 1980s, Joseph Russo, deputy commissioner at the Mayor's Office for People with Disabilities in Chicago, then issued a personal challenge to students.
"I know you can be a creative voice in this process to help solve problems that are of critical importance to people in their everyday lives so let the next 24 hours be about that," Russo said.
Before traveling to Northwestern's Evanston campus on Friday evening, students first took "research excursions" from the AbilityLab, touring Chicago with assigned situational disabilities that limited their ability to move, see, hear, touch or speak. Like the event-opening wheelchair exercise and the AbilityLab tours, the urban excursions aimed to help students more deeply understand the challenges navigating with a disability poses.
Crafting solutions
On Saturday morning at Northwestern's Ford Motor Company Engineering Design Center, twenty teams of graduate students began crafting solutions, challenged to "solve for one, but extend to many."
After a morning and afternoon of sharing insights, ideating, prototyping, testing and receiving user feedback, teams then presented their ideas at an evening event at The Garage, Northwestern's on-campus innovation hub for students. Solutions included:
RFID patches secured externally to replace card access for public transportation
New approaches to presenting routes from Google Maps and Apple Maps that consider constraints, desires, and crowd-sourced data from those with differing abilities navigating urban environments
Bluetooth-enabled tiles laid through a transit center to help those with mobility challenges identify the most efficient, accessible path through transportation centers
A service integrating audio, video, and  GPS technologies to help people with visual impairments navigate new terrain
A competition to engage artists and highlight accessible routes on college campuses 
Working alongside team members from peer institutions and tasked to create innovative methods for planning and navigating first mile/last mile travel, Northwestern EDI student Lydia Davison called the IDI Challenge an inspiring experience certain to inform her future work.
"I feel like I grew as a designer and person as I learned to adapt to different projects and teams while focusing on a unique population," Davison said. 
Amy O'Keefe, Studio Director of the EDI program, says the IDI Consortium will continue leveraging the hackathon-like event as a way to connect students, practice design methods and increase awareness of the emerging category of Integrated Design Innovation master's programs. MIT will host next year's 24-hour challenge in Boston.
"Our hope is that the IDI Design Challenge continues to inspire design innovation masters students to take different roles on projects and provides new tools and the confidence to approach complex problems with empathy, integrity, and optimism as well as intellectual and creative rigor."