Remy Tabano
Experience Design, Product Design, Strategy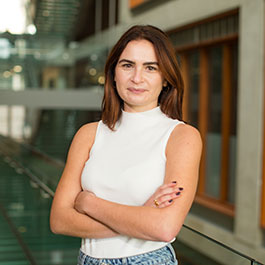 Affiliated Programs
About
Remy has an insatiable curiosity to understand and question the world around her, which has inspired her career through art and science. She looks to merge her technical background in scientific research with her inclination to design in order to engineer more effective and empathetic products, experiences, and services. Remy feels that EDI will afford her the opportunity to anchor her academic discipline in human-centered design ecology and challenge her to become a better innovator through its interdisciplinary nature and uniquely diverse cohort.
Why EDI?
Throughout her career in neuroscience, Remy found she naturally gravitated towards designing and engineering tools to advance scientific research. She found her work to be the most satisfying when she could bridge her technical background with her passion for human-centered design and looked for a way to do so. During her struggle to find a path that merged her diverse interests, she was fortunate to talk to her friend and fellow EDI alumna, Delfina Sitar, who strongly recommended the program to her after hearing her story. 
Education
BS, Neuroscience, University of Michigan
Misc
Remy spends her free time doing hands-on work such as refurbishing furniture, acrylic painting, baking, and most recently, sewing masks. She loves spending time in nature and traveling to new places. Remy dreams big and has a restless spirit!
Back to top