Patricia Song
Design Research, Product Design, UI/UX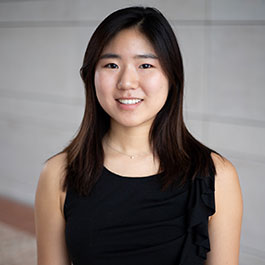 About
Patricia is passionate about solving complex problems with creative and ethical human-centered designs. She is eager to continue building her technical skills while working in multidisciplinary groups to grow her perspective in the world of design. By analyzing interactions between people and technology, Patricia hopes to better understand how to best incorporate design solutions into the user's experience.
Why EDI?
Patricia is excited to take a deep dive into developing design solutions with real-world services offered in the EDI curriculum. She is also eager to augment her skills in human-centered design with professors she met in her undergraduate classes.
Education
BA, Computer Science, Segal Design Certificate, Northwestern University
Misc
Patricia enjoys singing, exploring new places, and playing sports. She loves to share music with friends and attend concerts.
Back to top