Caroline Scheibel
Product Design, UI/UX, Entrepreneurship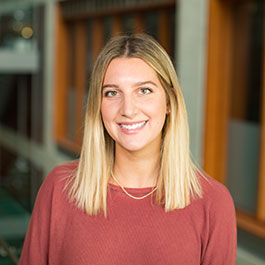 About
Caroline has a passion for creating usable digital products and exploring all facets of interactive and digital media. Her interest in the UX field began when she realized that it was an integral part of the design process for any product. Caroline believes that for any product to succeed, it must first be user-tested. She has a strong interest in user-experience research and design, and believes that EDI will help her explore this field in more depth.
Why EDI?
 Caroline was introduced to human-centered design during a user experience course her sophomore year, and loved it from then on. She continued to take related courses and had the opportunity to work in her school's eye tracking lab. These experiences are what led her to explore human-centered design at the graduate level. EDI stood out to her because the areas of interest allow her to try out new things and gain knowledge in more than one field.
Education
BS, Interactive Media Studies, Miami University
BS, Psychology, Miami University
Certificate in Human-Computer Interaction for UX Design, MIT
Experience 
Product Design Intern, Summer 2021, Peak6 Investments.
Misc
Caroline is passionate about travel. She studied abroad for four months in Barcelona and didn't want to leave. Her dream is to find a way to incorporate travel into her future job, and continue to visit new places all around the world.
Back to top