Nic Raiser
Product Design, Design Engineering, Consumer Products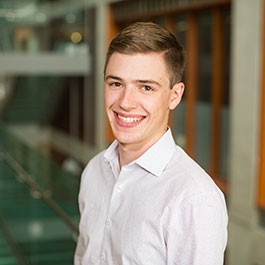 About
Nic grew up in the mountains of Montana where he hiked, camped, skied, mountain biked, and spent as much time as possible outside. His experience with outdoor recreation gave him a practical understanding of how humans interact with the tools and equipment they use and the importance of well-designed gear. He believes that tools should be a natural extension of the body, and that the joy inspired by thoughtfully designed consumer products can enhance the connection that people have with the world around them. Nic enjoys integrating the artistic elements of design with his technical background in mechanical engineering, and believes that form and function should never be mutually exclusive.
Why EDI?
 Nic has always had an interest in designing and building things that people can interact with, but his first real exposure to human-centered design happened during an advanced product design course. One class in his senior year of undergraduate studies at the University of Colorado was all it took to convince him he wanted to pursue design as a career. Nic believes the opportunity to study multiple aspects of design from some of the best faculty in the world made the EDI program a natural choice for him.
Education
BS, Mechanical Engineering, University of Colorado
Experience
 Engineering/R&D Intern, Specialized Bicycle Components
Misc
In addition to outdoor activities, Nic is fond of restoring and modifying classic cars, a hobby he has been enjoying with his dad. Nic has worked on everything from mid-2000s Audis to '60s and '70s Fords, and he enjoys testing his projects on the racetrack. Nic also has a passion for music and has been a drummer for more than 17 years.
Back to top