Marisa Magsarili
Product Design, Design Engineering, Consumer Products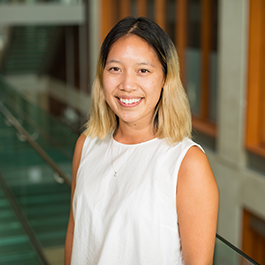 About
As a hands-on engineer, Marisa believes that human-centered design helps bring a new perspective to engineering projects. To Marisa, the user experience of a product is just as important as its technical performance. She loves exploring wild ideas to inspire novel design solutions and thrives in collaborative team settings. Her goal is to create meaningful products that promote environmental and social sustainability.
Why EDI?
Marisa was first introduced to design thinking while studying mechanical engineering as an undergraduate, where she became interested in the intersection between engineering and design, and how it can be used to create elegant, functional solutions to human problems. She chose EDI because she wants to better understand the interactions between humans and products. EDI also provides the opportunity to improve her technical and creative skillsets while exploring various forms of design. Marisa is excited to work alongside other EDI students who come from a diverse set of backgrounds and share an affinity for design.
Education
BE, Mechanical Engineering, Dartmouth College
AB, Engineering Sciences, Dartmouth College
Misc
Marisa's hobbies include dancing and spending time outdoors.
Back to top