Neha Kodi
Product Design, UI/UX, Product Management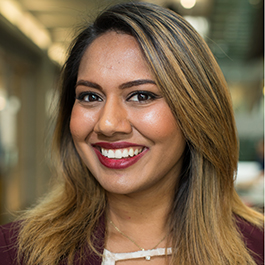 About
Neha spent the very early part of her life traveling around the world living on freight ships. This experience exposed her to various cultures and ways of life, and it sparked her interest in integrating aspects of diversity into her work. Her interests in languages, technology, dance, music, and foreign cultures have allowed her to embrace new ways of thinking and communicating. She has always questioned how and why things worked the way they did, which led her to pursue studies in engineering in college to learn and apply quantitative analysis to solve problems. Her early experiences with people of diverse backgrounds and her later academic experiences in STEM have guided her to design.
Why EDI?
During her senior year of college, Neha completed a project for a design class which entailed designing, building and testing a toy to teach young children about an educational topic. With a team, she built MagneMaze, a multiplayer magnetic maze that taught children the basic concepts of magnetism. Through this project, Neha realized that the toys she played with as a child shaped her thoughts, interests, interactions with people and problem-solving abilities even as an adult. Her early experiences with toys from all over the world led her to question the mental and social impact of toys on an individual later on in life, guiding her to explore the field of toys and games, particularly of the educational variety. EDI presents Neha with a wide variety of academic work, the chance to learn from industry professionals, the freedom to shape her path, and the opportunity to collaborate with students and professors of diverse backgrounds.
Education
BS Mechanical Engineering, Carnegie Mellon University
Experience
UX Design Summer Associate, Fulcrum GT
Mechanical Drafter, Seagull Solutions Inc
Misc
Neha is passionate about foreign languages and cultures. She is fluent in Telugu, Hindi, English, and Spanish and is currently learning Mandarin.
Back to top