Miranda Harmon
Product Design, Healthcare, Social Impact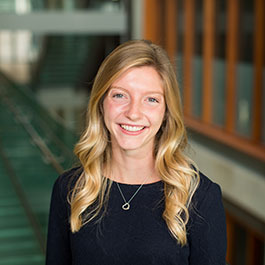 About
Miranda's excitement for impacting others in a positive way transitioned from singing and dancing for friends and family at a young age, to viewing the healthcare field as the leading way to make a significant difference in the lives of those around her. Her interest in the development and re-imagination of medical devices stems from watching loved ones struggle with existing technologies, and therefore believes that a career in human-centered design is at the forefront of technological innovation that can greatly benefit a diverse group of users.
Why EDI?
Miranda pursued an undergraduate degree in Biomedical Engineering to weave together her passion for healthcare and engineering innovation. Her studies uncovered examples of newly created devices and redevelopments of current underreporting devices.
This piqued Miranda's interest in the user experience and how to translate those observations, through design, into novel devices. With EDI's one of a kind focus on the human-centered approach and the iterative process of engineering design, Miranda found the ideal program to focus on product design, healthcare, and social impact. EDI allows her the chance to immerse herself within the design world and find the exact aspect of device design with which she wants to center herself.
Education
BS, Biomedical Engineering, Georgia Institute of Technology
Misc
As an undergraduate, Miranda was on the Georgia Tech Cheerleading team. As a student athlete, she especially enjoyed a leadership role within her community by acting as a student ambassador when networking with alumni and Georgia Tech supporters.
Back to top