Sydney Bernstein
Service Design, Healthcare, Design Research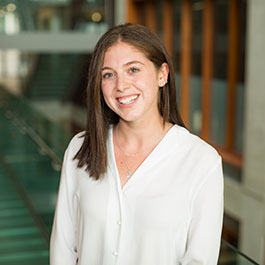 About
Growing up, Sydney always knew that she wanted to work in the healthcare field as she's intrigued by the complex problems faced by everyday people. Recognizing the desire to tackle these issues, Sydney is studying design innovation as a way to delve into the unknown and make a impact in an area of great personal passion.
Why EDI?
As an undergraduate, Sydney often observed that many products and services were not designed with the end-user and environment in mind, specifically in the global health field. Sydney hopes to tackle this problem through the use of human-centered design. Sydney chose EDI because she finds everyone involved to be as passionate as she is in their particular areas of study. She is excited to surround herself with like-minded peers in order to further learn and develop as a human-centered designer.
Education
BS, Biomedical Engineering, Northwestern University
Experience
Before EDI: BS, Biomedical Engineering, Northwestern University
Research Intern, Shirley Ryan Ability Lab, Center for Bionic Medicine
Operations Fellow, GlobeMed Executive Offices
Misc
Sydney is a self-described extroverted-introvert, who loves meeting new people and exploring new cities.
Back to top