Dan Greenberg
Product Development Engineer, Radio Flyer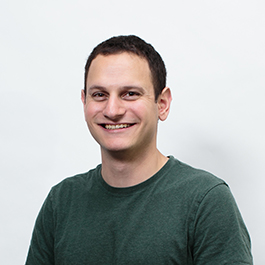 Alumni Interview
"Don't forget about hard skills that can set you apart from other candidates. Spending a lot of time in the Shop, the mechatronics lab, and the prototype lab not only helped me create more and better portfolio pieces, but it also helped me land my EDI internship at Radio Flyer which led to a full-time position."
When you started EDI, did you know what industry you wanted to work in?
I knew I wanted to be in product development of some kind and use human-centered design skills, but I didn't know where to go from there. So at the start, I had a general idea, but EDI helped me focus and shape my trajectory toward where my skills and my passion intersected.
Tell us about an EDI course that made an impact on you.
I had taken various human-centered design and innovation classes with David Gatchell, Dan Brown, and the rest of the Segal staff throughout my undergrad years at Northwestern, and those definitely got me hooked on design thinking. One class that really opened my eyes to how design thinking and user empathy can lead not to just great products, but also new understandings of how we interact with the things around us was Craig Sampson's Designing Product Interactions (DPI). Reading case studies and designing various projects that pushed the envelope of what it means to interact with an object gave me great insight into how people naturally perceive and associate with the things around them. We can then use these natural perceptions and cultural norms to our advantage as designers. For example, how might you design a box so when a user opens it, it elicits one very specific emotion and not another? These sorts of projects force you to think about design as more than just form and function. DPI made me specifically want to become a tangible interaction designer by showing me that we can bring more life, nuance, and intuition into the physical world around us as designers. It made me a firm believer that while touchscreens are great, our hands are the most amazing input/output devices and a 2D surface barely takes advantage of that. At Radio Flyer, I get to apply all these lessons and more when designing how a child or adult will interact with the smallest touch point or experience the product as a whole.
Is there anyone you worked with during EDI that you consider a mentor?
I can't think of a single member of the EDI faculty who I didn't ask for career advice! First of all, I have to thank David Gatchell, my undergraduate advisor and mentor in the MaDE program. He and many others encouraged me to first apply to EDI which certainly steered my career in the right direction. While in EDI, Walter Herbst was a great thesis advisor and mentor who taught me so much about consumer product design from decades of experience. He'll give you his opinion immediately from his refined intuition, but also be able to later back it up from a design thinking standpoint. Greg Holderfield and I had many conversations about the dreaded career debate – to go corporate or consultant. I think I made the right choice! Within my career so far, the skills and lessons I learned from Scott Simpson, Bob Taglia, Joe Luciani, Nick Marchuk, and Mike Beltran in the prototype shop, mechatronics lab, and rapid prototyping lab respectively have been invaluable. And last but certainly not least, Dan Brown has been a mentor since my sophomore year of undergrad and continues to be to this day. His entrepreneurial spirit and manufacturing lessons always are in my head when bringing products to market. Learning from and networking with these amazingly talented and creative individuals outside of class is just as important as the lessons they teach inside of it.
How did you decide on your EDI thesis project? 
I did an independent study with Walter Herbst during winter quarter on consumer product development. Most of the quarter was devoted to just finding the idea to pursue. Knowing Walter's primary passion is in housewares, I knew I wanted to focus there so I could get the most out of the experience. I brainstormed every houseware item I thought could be improved or was yet to be invented and we eventually landed on the bagel cutter. The product was ripe for improvement and I had some oddly strong memories from childhood and adolescence regarding bagel cutters. As this was just an independent project, I didn't know it was going to be my thesis by the end of that quarter. But something about the product clicked with me and I continued to do independent studies for the bagel cutter throughout my time in EDI. There were clear problems with bagel cutters on the market and I wanted to design a great solution. Not surprisingly, finding a problem you actually want to solve makes for a great project! To strengthen my thesis, I even used the bagel cutter as final projects for Dan Brown's Differentiation by Design and Greg Holderfield's Introduction to Industrial Design Methods. It became somewhat of a joke in my cohort every time the bagel cutter would get brought up in a class because even though it was a serious consumer product development project, a bagel cutter was the bane of my EDI existence!
What advice do you have for an EDI student interested in working in your industry?
Take as many project-based classes as you can – build your chops! Specifically, take classes where you end up with a physical product or at least a render of one. Classes that have multiple projects like DPI and Tangible Interaction Design with Michael Horn get bonus points. And take pictures! Lots of them! All throughout the process! Your portfolio is the most powerful asset you have as a product development engineer and without any products to show as well as the process you used to design and create them, hiring managers can't see how talented you are. As a corollary, be sure to make your thesis in the industry you're interested. If you're applying to consumer products jobs and your thesis is in service design, a hiring manager may struggle to see how it fits, no matter how well you talk through your design process. Many projects I've worked on at Radio Flyer remind me of EDI thesis, so it's a great way to show a company how you would handle real projects that relate to them. Lastly, don't forget about hard skills that can set you apart from other candidates. Spending a lot of time in the shop, the mechatronics lab, and the prototype lab not only helped me create more and better portfolio pieces, but it also helped me land my EDI internship at Radio Flyer which led to a full-time position. Had I not fiddled around with Arduino in the mechatronics lab with Nick, used it to create the "Emotional Box" in Craig Sampson's DPI class, and then put it on my portfolio, I probably wouldn't be where I am today.
Back to top