Phoebe Evans
Breakthrough Technology Process Engineer, Mars Wrigley Confectionery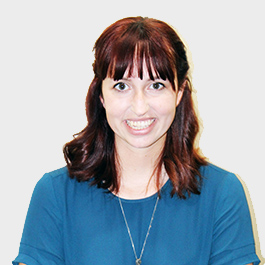 Alumni Interview
When you started EDI, did you know what industry you wanted to work in?
I had an idea of what type of industry I wanted to work in. I've always loved prototyping physical things so CPG just made sense. I just wanted to help design and create things that make people happy and what better industry to do that in than candy?
Tell us about an EDI course that made an impact on you.
Designing Product Interactions was a course that really helped solidify my love of product design and made me realize all the different ways people interact with what you create. It opened my eyes to designing for more than just functionality and how touch, feel, sound, smell, and taste of a product all go into creating something that consumers' desire.
Is there anyone you worked with during EDI that you consider a mentor?
EDI introduced me to truly wonderful professors and classmates who were always willing to help, but one person who stands out was Martin Rathgeber. He was both my thesis mentor and a role model for how to successfully combine technical engineering with a passion for design and creativity. He went above and beyond his thesis mentor role and was willing to help me rework my resume while I was job hunting and even met with me after I graduated to give advice and support on turning my thesis project into a successful Kickstarter.
How did you decide on your EDI thesis project? 
At first, I was really lost on what I wanted to do for my thesis project. So, I thought about it in reverse. I listed out what I wanted to accomplish with my thesis project: make a product and build lots of prototypes. In order to do extensive iterative prototyping, I realized I would need really good access to a group of users for testing purposes. At the time, I was on the club ultimate frisbee team at Northwestern so I decided that athletes would be my main focus. From there I chose a location that would grant me access to a front-row view of problems athletes were having: the athletic trainer's office. Once or twice a week I would sit in the trainer's office at Northwestern and watch as she treated my teammates and interview her during her down times about what the most common issues were and how she treated them. After all of that, designing a soft tissue massage tool became the clear choice!
What advice do you have for an EDI student interested in working in your industry?
I would say the most important thing is to take advantage of the tools that are readily available to you in EDI. Learn how to use the rapid prototyping tools and software, take the time to do personal projects in Illustrator and Photoshop, and use the Shop as much as possible! A career in consumer product goods is all about being able to translate ideas into reality. Whether it is a rough sketch or a 3D model, these visuals help bring others into your idea and can allow for better discussion and collaboration to create the right solutions. Don't forget to learn from the crazy talented students that surround you. They will help you achieve things you never could do alone!
Back to top