EDI '20 Students Design 'Wildest Dreams'
New cohort of students completed Design Boot Camp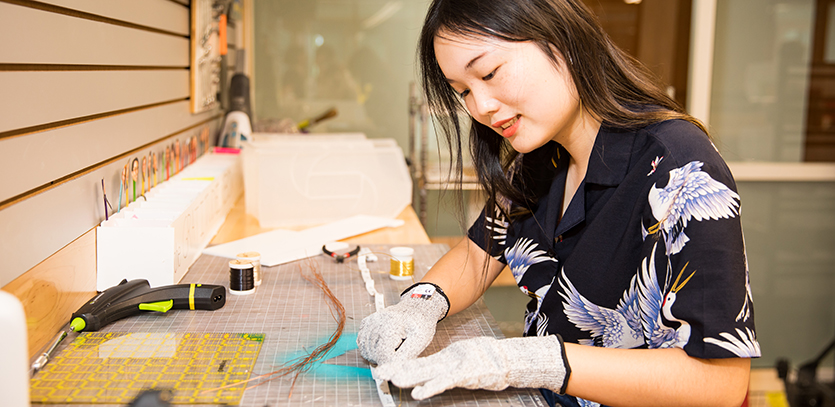 The newest cohort of EDI students completed Design Boot Camp with presentations and a gallery walk in the Ford Design Studio on September 23.
Design Boot Camp is a three-week orientation program to help new EDI students build the skills that will help them in the program. Its schedule includes workshops in sketching and mechatronics, introductions to resources including the Rapid Prototyping Lab, the Corner Makery, and the Segal Prototyping & Fabrication Shop, and a field trip to the Procter & Gamble headquarters.
The new EDI students have fun during Design Boot Camp, too. With social activities at local restaurants and the Northwestern Sailing Center, they build connections with faculty members and form friendships within the cohort.
Each student completes a personal project during Design Boot Camp as a way to try out their new skills. The theme guiding projects for this year's Design Boot Camp was "Wildest Dreams." The variety of projects presented by the students in the new cohort reflected their diverse backgrounds and interests.
For example, Chris Baggott (EDI '20) created Bookish, a shelf with built-in lights that change color when you interact with the books placed upon it. Baggott's project was inspired by his lifelong love of reading.
"I used a variety of woodworking skills to build the shelf, including precision cutting, drilling, glueing, and sanding the wood," said Baggott. "I also utilized Arduino programming, soldering, and circuit-building skills for adding lights and sensors to the bookshelf."
Diana Jeong Ro (EDI '20) created Synth, a haptic feedback device that takes music input, reads frequencies into 10 different bins, and plays the frequency as a vibration under each finger.
"I made the program using mechatronics, [including] vibrating motors, LEDs, and Arduino," said Jeong Ro. "I used the laser cutter [in the Segal Shop] to create the hand-shaped frame and sand blasted it."
Sophie Lancaster (EDI '20) created Wanderlust, an interactive map that allows people to hear "hello" spoken in the official language of different countries upon touch. Lancaster used new skills from Design Boot Camp, including Adobe Illustrator, laser cutting, sawing, and mechatronics.
"My family lived in the Netherlands [for five years] and during this time I was able to travel and experience new cultures," said Lancaster. "[Those] experiences made me feel much more connected to the people and the world around me, so when I heard that the theme for this year's Boot Camp projects was 'Wildest Dreams,' I wanted to create [that] sense of connection for other people."
Baggott, Jeong Ro, Lancaster, and the rest of the EDI cohort showed off their prototypes in a gallery walk  for audience members on the final day of Design Boot Camp.
To see photos from Design Boot Camp, click through the slideshow!