Sensing Stroller
A stroller that integrates electronic sensors to improve safety
Kids In Danger (KID), a non-profit organization in Chicago, saw a problem with strollers and challenged Northwestern students to fix it.  A report in the journal Academic Pediatrics highlighted the injury patterns in strollers or infant carriers and revealed that more than 17,000 children under 5 are rushed to emergency rooms annually for related injuries.
Four first-year students enrolled in a course called Design Thinking and Communication (DTC) through the Segal Design Institute reviewed the data and designed a solution. Part of the Engineering First® curriculum, DTC puts students to work on real design problems submitted by individuals, non-profits, entrepreneurs, and industry members. The course is co-taught by an instructor from Northwestern Engineering and by an instructor from the Cook Family Writing Program at the Weinberg College of Arts and Sciences.
The team consisted of Northwestern students Jacob Hechter, Annick Nshuti, Bharat Rao, and Jaelon Woodard. Hechter explained how they took on the challenge.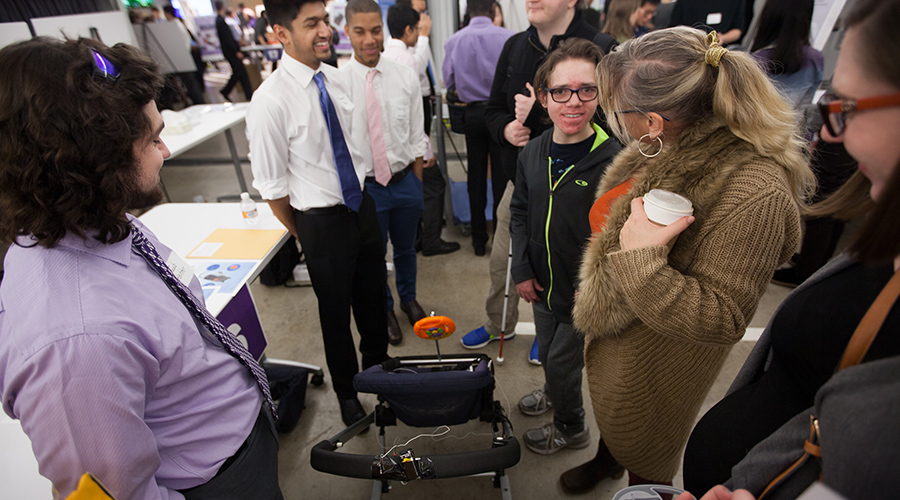 Problem
"Our client came to us with a study which estimates that thousands of children a year are injured in accidents related to strollers," he said. "Our job was to design a stroller which would be safer than those currently on the market, in an effort to reduce the number of injuries."
Because of the scale of the problem we were given, we did a lot of user observation in the form of people watching. We wanted to observe people in their day-to-day use of strollers, and see if there were any behaviors which seemed like they should be accounted for in our designs. 

The Process
The team's first step was to conduct user observation.
"Because of the scale of the problem we were given, we did a lot of user observation in the form of people watching," said Hechter. "We wanted to observe people in their day-to-day use of strollers, and see if there were any behaviors which seemed like they should be accounted for in our designs."
The team also interviewed several users before and after creating their mock-ups to gather feedback. Team member Annick Nshuti found that gathering feedback from users was critical to the design innovation process.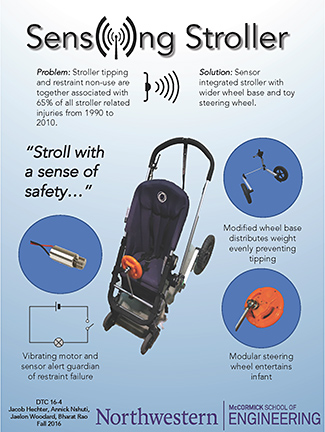 "I worked with a parent who has used a stroller for around two years and was experienced with the field of stroller safety," said Nshuti. "Apart from helping me decide on the specific features that he found more important than others, he also became a source of constant advice and that was a vital part of the project and our design in general."
Using the feedback of users to help them narrow down their ideas, the team next turned to building a prototype. Rao described how the team narrowed down their ideas.
"We created decision and alternatives matrices in order to rank each of our designs based on different categories such as safety, ease of use, and comfortability," Rao said. "In the end, we took different aspects from each of our own designs and meshed them together in one. One thing was sure from the beginning though, we really wanted to integrate sensors, and we stuck with that from the very beginning."
Their initial prototype was made out of foamcore. Next, the team took an old stroller that had been donated to the class and modified it to create their second prototype with scraps from the shop.
"We sawed off and widened the wheelbase as well as added our own accessory, a toy steering wheel. All of the metals were aluminum to maintain the light feel of the stroller. The process was extremely time-consuming, but also very rewarding," said Rao.

After several rounds of iteration, the team arrived at their final design: a sensing stroller that incorporated electronic integration.
The Solution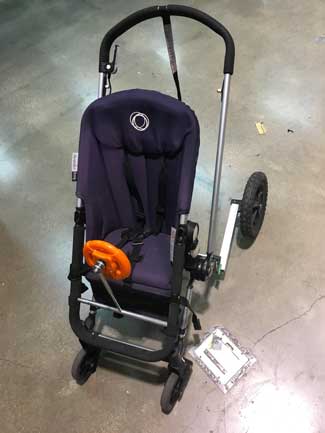 "The new design had three main features: wider wheel base, a sensing-electronic system, and a steering wheel," said Nshuti. "Our hypothesis was that this new design would reduce stroller accidents related to unequal weight distribution (stroller stability), unbuckled harness when stroller is in use, and constant desire of the kid to get out of the stroller. All those were problems that we had identified to be leading causes of most accidents in strollers."
Building a prototype in the shop turned out to be one of the team's favorite parts of the design innovation process.
"My favorite part of working on the project was getting to go into the shop and work on building the mockups and prototypes," said Hechter. "It's very satisfying to put a lot of work into something and end up with a tangible result, something I can say that I helped make."

His team member Rao agreed and emphasized the support they received from the Segal Design Institute community.

"We spent hours in the shop getting help from all the trainers, mentors, and staff," said Rao. "If it weren't for them, we would have not been able to put together what we did."
Once they had a prototype ready, the team began user testing to get more feedback that would launch them into the next round of iteration. They learned a great deal from testing their prototype in the field.
"User testing was an interesting experience because it was the very first time most of us got to hear people's opinions about a product that we had made ourselves," said Rao. "It was different and unique because hearing various opinions from users forced us to really think outside the box on how we could design a product that satisfied all of the desires and needs the users had."
One of the team's faculty advisers, Allison Bedell, praised the combination of creativity and research that went into their final design.
"Each team of students did a great job narrowing the broad problem into a specific design opportunity justified by their research," Bedell said. "Their solutions demonstrated both a unique perspective on the challenge of stroller safety and the creative application of their engineering and communications skills to solve it."
Team members expressed a satisfaction from working on a project for a real-world client, a cornerstone of the DTC course.
"I gotta say my favorite part about working on this project was creating something from start to finish. It's not every day that a first-year student in college gets to build something from basically scratch and then present to it to a real client," said Rao. "Not only this, but the class taught me not just the process of building, but the process of documentation, which oftentimes goes unnoticed in the engineering world. Combining all these aspects of the class together, and the [DTC] experience was really one of a kind."
Back to top