Assists
A portable, inexpensive alternative to professional soccer training facilities
In soccer, the ability to anticipate the arrival of teammates' passes, receive the ball, and quickly and accurately redirect it is essential to executing a game plan. But it can be difficult for individual players to develop and measure these skills without multiple players to simulate game scenarios while training.
Working with Northwestern's men's soccer team, an undergraduate student group in the Segal Design Institute's Design 384: Interdisciplinary Design Projects course has developed a portable, cost-effective alternative, called Assists, that may soon become a common part of training for Northwestern's soccer program. Costing under $500 to produce, the system combines four small soccer-style goals, LED lights, and an electronics system to create a 360-degree training environment at a fraction of the cost of professional trainers.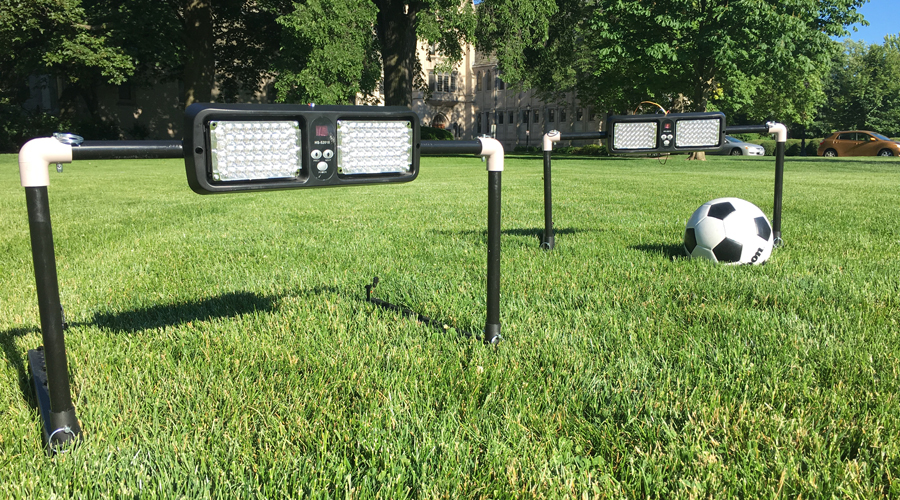 You could see the competition among the players come out during testing. They wanted to know their scores right away. It was exciting to see them get into the game and really enjoy the experience.Alex Friedman, Assists, group member
How It Works
To operate Assists, a player stands in the middle of a circular arrangement of the goals, placed approximately 20 feet apart. The player then launches the iPhone app, which signals to an automatic ball feeder to send a ball to the player while simultaneously activating a red light on top of one goals, chosen at random. The player then receives the pass from the feeder, locates the lit goal, and kicks the ball through as quickly as they can.
After the drill ends, data on the number of scores and the time it took for the ball to pass through the target is sent from the goals to the app so players can assess their performance.
Benefits
Players can develop passing accuracy skills independently
Analytics offer feedback on performance, which promotes competition and self-improvement among teammates
System is conveniently housed in a mobile cart so it can easily be moved to different training sites
Prototype was constructed for less than $500, significantly cheaper than current professional passing trainers
Inspired by the Footbonaut
The team's inspiration for Assists came from the Footbonaut, a million-dollar training facility in Germany that places players in the center of a robotic cage, where they receive and redirect passes from a ball feeder to dozens of surrounding sensor-enhanced targets. Data from each training session is collected and analyzed, allowing coaches and players to evaluate performance progress over time.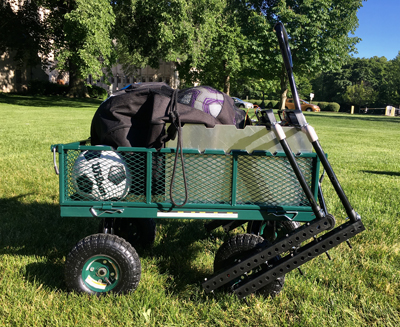 To develop a system that was portable enough to be packed and moved in a wagon while maintaining similar functionality to the Footbonaut, the team leveraged their interdisciplinary backgrounds in product design, mechanical engineering, electronics, and computer science to overcome design challenges.
"We considered several different shapes and materials for the goals, from sheet metal to cutting trashcans in half, so it fit like a half-circle tunnel," said group member Alex Friedman. "In the end, we decided a smaller version of a standard soccer goal made of PVC pipe was best because it allowed the ball to pass through from the most angles without knocking the goal out of position."
Current Status
The team tested the first-generation prototype of the Assists system in the spring with members of the Northwestern men's soccer team. Assistant coach Rich Nassif hopes to make Assists available to his players to train with during the team's summer off-season, a time when there are limits on organized team activities. In the future, new students may join the project to develop additional features, including an enhanced electronics system that transfers the collected data to a website for easier analysis. 

Updated August 2017
Course
Design 384: Interdisciplinary Design Projects
Team Members
Aviv Delgadillo (mechanical engineering, manufacturing and design engineering)
,
Alex Friedman (product design engineering)
,
Emma Lane (manufacturing and design engineering)
,
Adam Muhammad (Segal Design Certificate, computer science)
,
Connor Murray (mechanical engineering)
Back to top