Pam Daniels
Clinical Associate Professor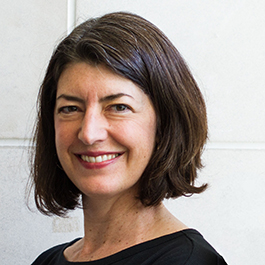 Contact Info
2133 Sheridan Rd, 3.313
Affiliated Programs
About
Pam Daniels is a creative, collaborative leader with global experience in human-centered design and organizational development. For over twenty years, she has been applying design thinking to surface human needs and effectively address them through imagining and creating new possibilities. She currently serves as a Clinical Associate Professor at Northwestern University's Segal Design Institute, where she teaches a range of classes in human-centered design for both undergraduates and grad students.

She also leads a Chicago-based design practice called Welcome Industries, collaborating with local manufacturers to bring new products to life.  The current focus is a set of visual measuring cups inspired by a pie chart—one half simply looks like half.  The patented design was a finalist for a Global Innovation Award in product design at the 2019 International Housewares Show, and is carried at select retailers, including the MoMA Design Store and catalog.
Her previous work experience includes roles as a Director at IDEO, a global design & innovation consultancy, and serving as SVP of Global Operations at Starcom MediaVest Group / Leo Burnett in the media communications field. She also co-founded the not-for-profit DesignHouse Chicago, an organization dedicated to revitalizing local manufacturing through design.
She has been a speaker at Technori, Chicago Ideas Week, ORDcamp, and The International Home & Housewares Show. Her work has been featured in The New York Times, The Chicago Tribune, Core77, Business Week, Design Engine, Modern Luxury Interiors, Yanko Design, and Phaidon. Pam was selected by the 2017 senior class to be the one professor from amongst all faculty at Northwestern University to give a "last lecture" before graduation—and honor she is still grateful for and humbled by.
Pam is driven by curiosity and empathy—and passionate about taking action to make things better. She loves hands-on making as much as large-scale innovation work, and is skilled in a range of digital fabrication techniques from 3D printing to laser cutting to milling. She loves engaging new people in learning and is always intrigued by what she hasn't done yet.
When she's not in the shop making something or in the Corner Makery fixing the 3D printers, you'll find her in her office/studio on the third floor, sharing her love of design with everyone who comes by.
Pam holds a Master of Science in Product Design & Development from Northwestern University and a Bachelor of Arts from Tufts University.
Back to top