From the Classroom to the Campground: Students Dive into RV Life
Summer field research gave Segal students a unique opportunity to practice human-centered design outside the classroom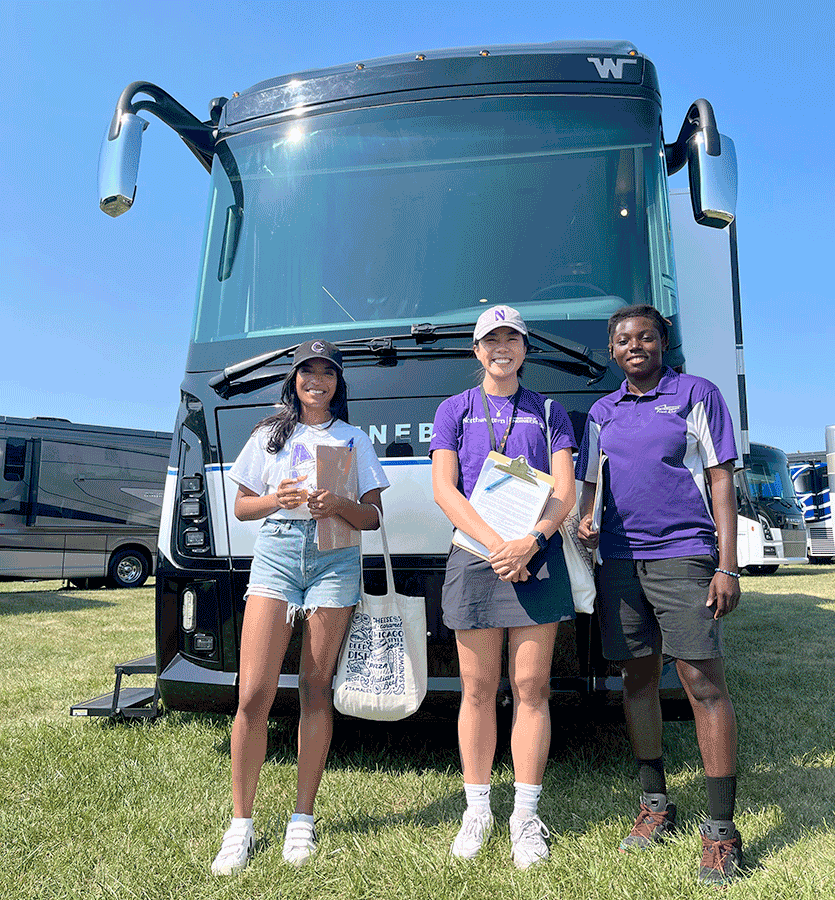 When Godsgift Chukwudi ('24) arrived at the Winnebago Grand National Rally in Fort City, Iowa, to conduct primary research last summer, she didn't know what to expect. She had only ever heard people talk about recreational vehicles (RVs) or seen RVs on TV shows.
But after spending two consecutive days fully immersed in the RV world, the Segal Design Certificate student developed a newfound appreciation. During that time, she, along with a small group of Segal students and faculty, saw more than 1,000 enthusiastic RV owners gather at an annual jamboree held at a Midwest fairground. At the rally, RV owners held cookouts and shared stories about their adventures and vehicles, an experience that left a lasting impression on her.
"I was shocked by the community, how everybody gathered around and talked to each other," Chukwudi said. "People got close really quickly, and I was surprised by how much I learned about RVs in that short amount of time." 
Developing a deep understanding for other people is a crucial part of the design research process, and it was a central focus of the field research study. The trips, led by Manufacturing and Design Engineering (MaDE) program director David Gatchell and adjunct lecturer Ariel Goldfarb, aimed to give students a rare opportunity to apply their human-centered design skills in an industry setting for an extended period.
The outcome? An invaluable, hands-on journey that not only enriched their education but also uncovered valuable consumer insights for an iconic brand.
Listening to People's Stories
On two separate trips — one to the Grand National Rally and another to the Grand Design RV National Owners Rally in Goshen, Indiana — six Segal students had a clear mission: dive headfirst into primary research. They conducted face-to-face interviews with RV owners, gathered personal narratives about RV experiences, asked about potential enhancements to the RV service experience, and led mini ethnographies by exploring the ins and outs of owners' RVs to pinpoint pain points and unmet needs.
MaDE student Sarah John ('23) said she remembers staying in a hotel near the campgrounds and arriving at the rally at 8 a.m. each day. That's when people would sit outside their RVs on lawn chairs drinking coffee — a great time to find people to interview.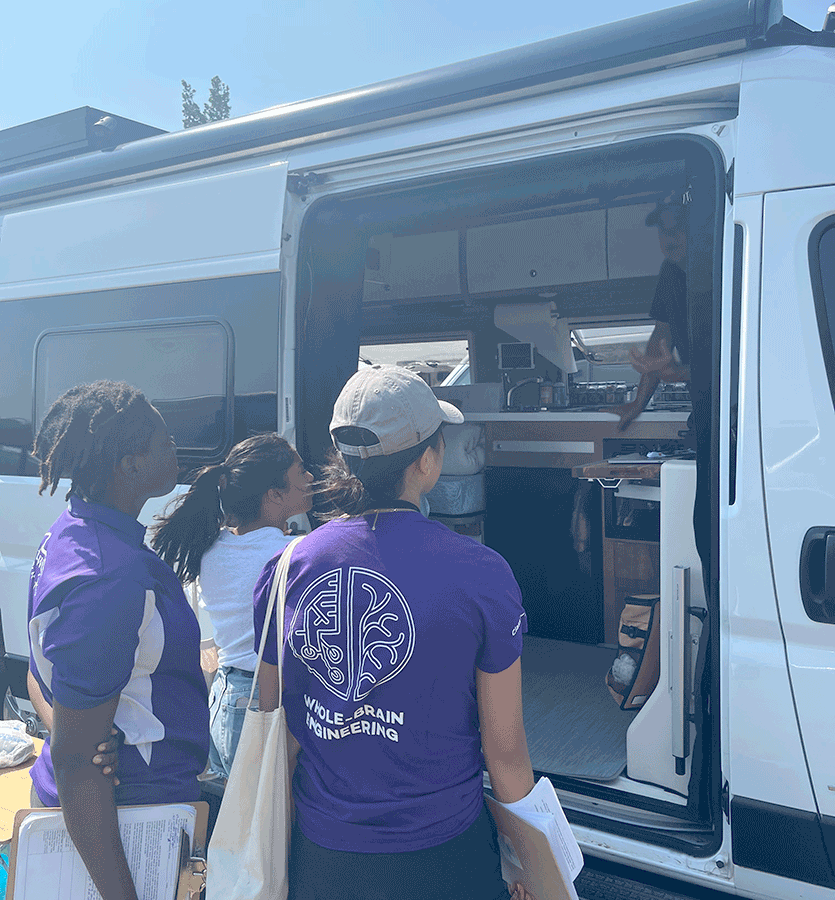 RV owners, it turned out, were eager to talk. They showed the students how they converted kitchen sinks to gain extra counter space, folded beds to save space, and made their RVs into multifunctional homes.
"It didn't feel like we were interviewing them, it felt like we were having a conversation," John said. "We connected with each person, which led to a deeper line of questioning rather than surface-level information."
How people feel about the products they consume is a particular area of interest and expertise for Goldfarb. Goldfarb is a managing partner at Concentric Growth Partners, a growth and innovation consultancy, and has given multiple guest lecturers to Gatchell's MaDE students about the role of brand strategy in product development.
"Ariel has done a great of job of showing students the ability to influence people," Gatchell said. "It's not lost on students that they want people to like the products they design. They need to understand behavioral needs to do that."
When the opportunity surfaced to bring Segal students along in field research he was doing for Winnebago at the time, Goldfarb connected with Gatchell to make it happen. Both Goldfarb and Gatchell facilitated the field research studies, and during interviews with RV owners, Goldfarb demonstrated techniques for approaching strangers and engaging them in deep conversations, a skill that some students admitted challenged them at first.
"I told every student, 'Watch. Listen,'" Gatchell said. "There is an art form to this. Ariel was modeling behavior that I would love our students to put in their toolbox."
"In the beginning of the trip I was a little uncomfortable," John said, "By the end I realized that people like talking about how they feel about a product, and that this was a really useful skill to have."
Tying it back to MaDE
Having already gained fundamental human-centered design skills as a MaDE student gave Quynh-Nhi Tran ('23) a leg up during interviews with RV owners, she said.
"From my previous internships and all the design projects I've done, I had a lot of experience writing testing protocols and user guides. I was used to tagging things in an interview," Tran said. "When it was time to review our notes at the end, it helped things go faster because we'd already been seeing patterns."
Nick Davis, manager at the Advanced Technology Group at Winnebago Industries, noticed the students' energy and skills during their conversations with RV owners, too.
"Their experience in design thinking and human-centered design helped them probe in the right areas," Davis said. "There were a couple times when the RV customers would make a comment about something and say, 'That was a little bit of a challenge,' and the students would ask, 'What makes it challenging?'"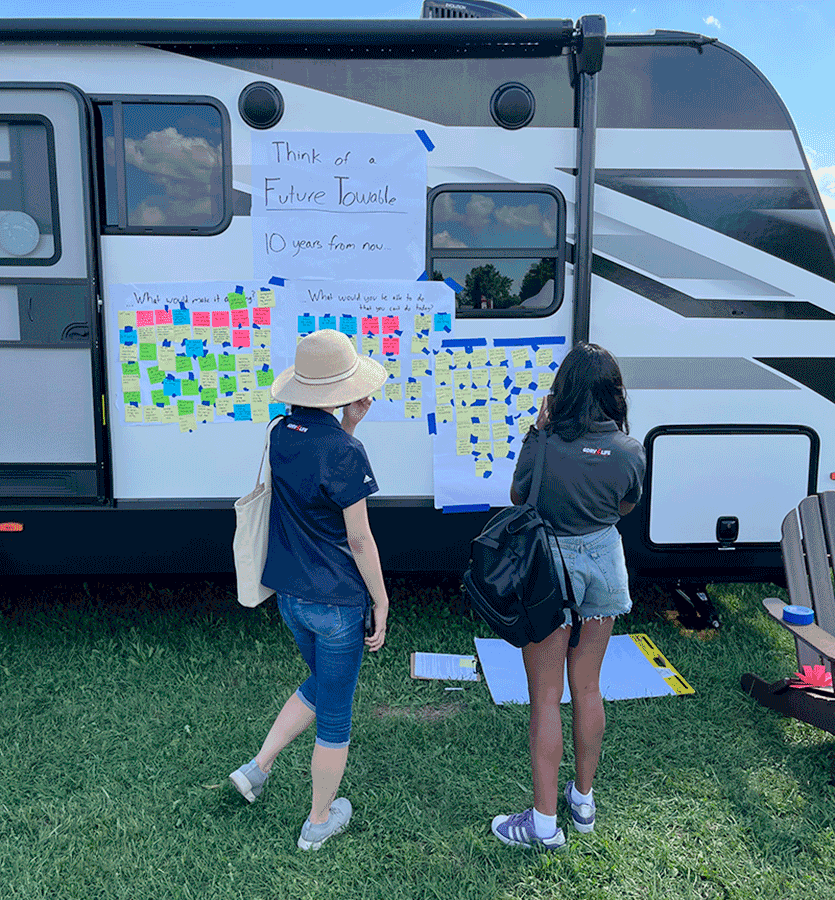 Once the students finished conducting interviews, they jumped into coding. At their hotel, in an Indiana ice cream shop, and at the Ford Engineering Design Center back in Evanston, they crafted their takeaways for a final report to deliver to Winnebago Industries.
"The biggest impact they had was a fresh perspective. They helped us to see things we haven't yet seen and question things that we constantly see but maybe don't realize we do," Davis said. "Their findings have been fed into additional internal research projects and continue to be an ongoing guide as we look to develop new products and different initiatives toward the future of RVs."
"Each student brought something valuable and completely different to the project," Goldfarb said. "They drilled down on consumer insights, from 5,000-foot global implications to management perspectives, and framed the findings in a meaningful way for the client." 
Putting human-centered design skills into action with real partners is fundamental to the Segal student experience, and the collaboration with Winnebago Industries serves as a prime illustration of this commitment.
"Each of their perspectives made it into the findings, and that experience is what makes the MaDE program so unique," Goldfarb said. "MaDE is about touching the real world, making real things, and giving students these real opportunities."