Taking Learning to Another Level
A trio of DTC students volunteered for an extracurricular project with Byline Bank. As a result, they learned more about human-centered design and themselves.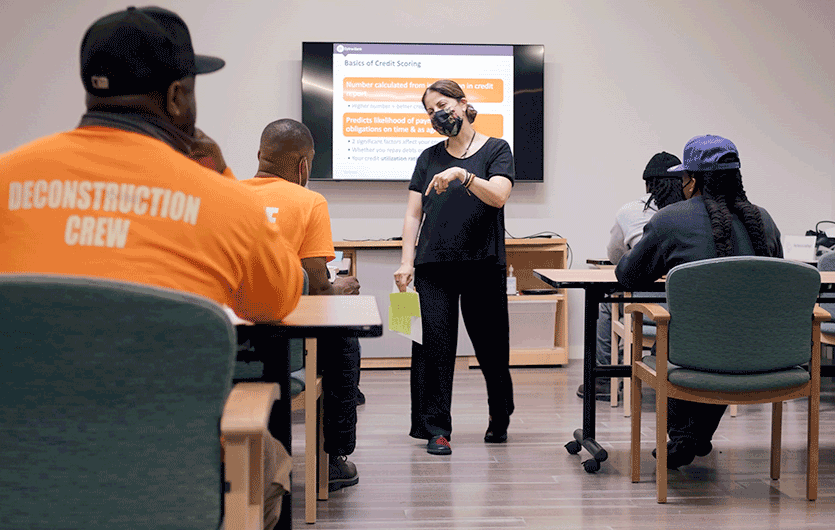 Given the odd start to his Northwestern University academic career, a first year dominated by remote learning and without the traditional markers of college life, Joshua Jung (BS '24) hungered for any opportunity to engage with his peers and supercharge his education.
So, when Kiki Zissimopoulos, a Design Thinking and Communication (DTC) instructor, contacted Jung and dozens of his DTC classmates last summer to ask if any were interested in continuing their work with Chicago-based Byline Bank beyond the scope of the assigned class project, Jung responded.
He later teamed with classmates Michelle Zhang (BA '24) and Amanda Kosmen (BS '24) to work with Byline Bank vice president and financial literacy officer Judette Kurasz on developing an online tool to support financial literacy. For the students, the extracurricular endeavor prompted deeper insights into human-centered design and stirred personal growth.
Seeking a thoughtful intervention
When the COVID-19 pandemic forced Kurasz to abandon the in-person finance workshops she directs for Byline Bank at church halls, community centers, and other local venues for low and moderate-income individuals, she admittedly panicked.
"How am I going to support an audience that needs this information, perhaps now more than ever?" she said. 
Four years prior, Kurasz had worked with DTC students on the design of a "caboodle" to house all of her workshop materials. Now, she was again turning to Northwestern's DTC program for ideas.
In the fall 2020 and winter 2021 terms, Kurasz challenged two different sets of DTC classes to create online tools focused on basic money management. Over both terms, student teams working remotely constructed clever solutions from games to websites to reimagined print content for the digital world.
"The students took the ask and went above and beyond with it," Kurasz said.
Intrigued and excited by the students' ingenuity, Kurasz asked Zissimopoulos if any students wished to continue their work with Byline Bank outside of the classroom. Zissimopoulos obliged and put out the call. Jung was first to respond with Kosmen and Zhang soon following. 
"After enduring the challenges of the remote learning environment, it was so impressive that these students had the energy and motivation to accept this offer and continue working with Byline Bank," Zissimopoulos said.
Crafting human-centered solutions
Starting in July 2021, the student trio began meeting virtually from their respective homes – Jung in Seattle, Kosmen in northern Wisconsin, and Zhang in Chicago – with one another and Kurasz to evaluate different ideas emerging from the two earlier DTC classes and to chart a path forward.
"We all had completely different insights and diversified ideas that created a rich team dynamic," Kosmen said. "We were also excited by a project with real-world implications. This wasn't something hypothetical, but rather something that could really add to people's lives in a positive way. 
The students leaned heavily into their own lived experience as remote learners, carefully considering how they could make online education more dynamic and engaging.
"That challenge actually made this even more fun because there were no easy answers," Jung said.
As Kurasz resumed in-person workshops in late summer, she invited the students to tag along. A Chicago resident, Zhang was first to shadow Kurasz. She returned to Jung and Kosmen with her observations, which included noting participant interest in topics beyond basic financial literacy, such as understanding financial markets and cryptocurrency. When Jung and Kosmen then landed in Evanston for the fall 2021 term, they too attended one of Kurasz's in-person workshops.
"Rather than coming up with designs in a bubble, we put effort into seeking and incorporating feedback from our users," Zhang said, adding that the ability to shadow Kurasz proved vital to understanding the problem beyond surface-level elements.
Throughout the fall and into the winter, the trio continued meeting as a group and with Kurasz to share ideas and brainstorm different functionalities for a digital product, eventually gravitating toward an online game to support Kurasz's in-person workshops.
Careful not to take away from the students' Northwestern coursework, Kurasz has resisted setting firm timelines for the students to produce a deliverable she can take to bank leadership. As a result, the project has been simmering in 2022, awaiting the students' return.
"I couldn't have asked for anything more with Joshua, Amanda, and Michelle," Kurasz said. "They have been enthusiastically dedicated to the cause, polite, creative, and methodical in their approach."
Valuable lessons
For each of the students, the extracurricular project with Kurasz sparked important insights into human-centered design and fostered personal growth.
A creative type who enjoys photography and videography, Jung said tacking the Byline Bank project onto the DTC course emphasized the importance of thoughtfulness and structure, something his previous creative pursuits often lacked.
"Rather than creating for creating's sake, I've learned how to bring empathy to ideation," he said.
The experience also spurred Jung to shift his major from civil engineering to manufacturing and design engineering and to pursue a spot in the Segal Design Institute's Bay Area Immersion Program, a novel interdisciplinary program exploring the intersection of technology and journalism.
"This whole experience tapped into the idea of 'excited accountability' for me and a drive to learn new skills," he said.
Zhang, meanwhile, said the Byline Bank project fueled self-confidence and inspired her to address problems in the world around her.
"I've learned that I really enjoy the collaboration and creative challenges that come with designing solutions and working on projects that have a positive impact on other people," said Zhang, a chemistry and computer science major. 
Kosmen, too, considers the Byline Bank project a rich learning experience that has reframed her problem-solving capabilities. Kosmen entered Northwestern knowing how to complete math problems and science lab reports, but unsure how such knowledge applied to real-world circumstances.
"But I see it now," said Kosmen, an industrial engineering major. "Design thinking puts you on that path to see how knowledge merges with creative thinking to build something tangible and useful. That's an incredibly empowering feeling."