Intuitive Design for Measuring Cups Earns Recognition at Housewares Show
Design by Clinical Assistant Professor Pam Daniels named a finalist for Global Innovation Award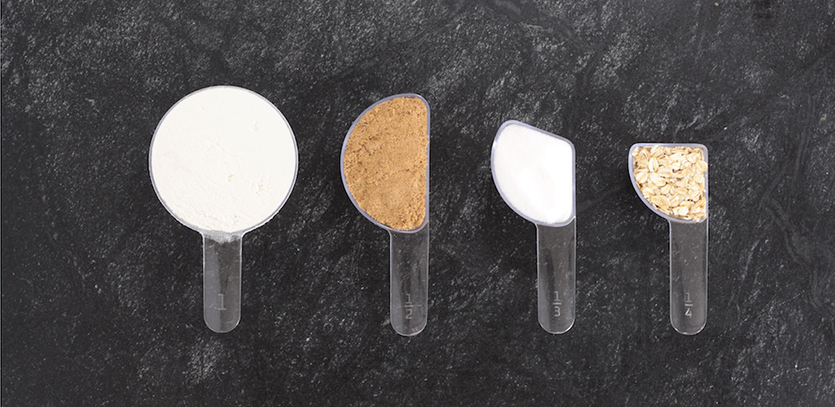 The shape tells the measurement with these visual measuring cups designed by Pam Daniels.
Pam Daniels, a Clinical Assistant Professor with the Segal Design Institute at Northwestern, is the designer of a unique set of measuring cups which were named a finalist for the 2019 Global Innovation Awards for product design at the International Home + Housewares Show earlier this month.
The International Home + Housewares Show is an annual event attracting over 50,000 people from around the world featuring more than 2,200 exhibitors. The 2019 show was held at McCormick Place Exposition Center in downtown Chicago on March 2-5.
Daniels is a co-founder of the design firm Welcome Industries, along with fellow Northwestern alum and former faculty member Brandon Williams. Welcome Industries exhibited their line of nested visual measuring cups as part of the Discover Design area, along with more established brands such as Alessi, Joseph Joseph, and Umbra. The patented design has been called "Brilliant" by Core77 and "Genius" by Yanko Design. 
Q & A
Q: What was your experience exhibiting at the 2019 International Home + Housewares Show like?
PD: It was a wonderful opportunity to get feedback. The product was well-received by the buyers who browse the show looking for new products to carry. We had interest from major retailers as well as specialty retailers and could show the packaging concepts in development along with the product itself to get feedback before we finalize decisions. 
Q: How did you feel about being a finalist for the 2019 Global Innovations Awards for product design?

PD: It's a big honor to have the first product we are launching from Welcome Industries be recognized in this way.
Q: What first inspired you to design visual measuring cups?
PD: I was sitting in on a talk that wasn't keeping my interest, and I started thinking about measuring cups and pie charts. Most dry measuring cups are just nested sets of circles—they look like the whole pie. Would it be possible to design them to look like the shape they represent and be volumetrically accurate? Could you still nest them? Where would the handle go? I started doing some rough sketches and then went home and modeled the first concept in SolidWorks. A few days later I brought a 3D-printed version of a set to some colleagues to see if the idea had any merit. People found the concept compelling, so I continued to work on honing the details for the next several years until the design felt just right.
Q: What has the manufacturing process for the visual measuring cups been like and what do you think you've learned from the experience so far as a designer?
PD: I love working with manufacturers, and have chosen to focus on partnering locally. I hugely value the knowledge and expertise that manufactures bring to the table and think it should be factored in early and throughout the design process.  A design isn't done when you've produced just one on a 3D printer—there's lots of design left to do to create the tooling, ensure it works well with the resin, and get production to work smoothly.  
I've partnered with other local manufacturers in the past to bring products to market, but this is my first go-around with injection molding.  I'm learning a lot.
The tooling and the production are being done in Chicago, which really simplifies communication and collaboration. I found a well-regarded, woman-owned manufacturing & tooling company called Janler Corporation located in Edison Park, Illinois. It's been fantastic to work with them every step of the way and to see how much care goes into their work.
Q: What advice do you have for Northwestern students interested in product design?
PD: Remember that design is about people. That's always the first step in design in the way I teach it—falling in love with the user and wanting to make their life better in some way. The motive isn't money, though money is useful.  It's serving people.
My next bit of advice is then to just keep going!  It takes a lot of perseverance to bring a new product to market. Design is by definition navigating the unknown to create new possibilities.  You're not going to have all the answers, you just have to keep discovering and doing.