The Slider
A specialized cup for patents who have difficulty swallowing
What do you get when you give four Northwestern students in their first year of college a real challenge, access to the Segal Prototyping and Fabrication Lab and the Corner Makery, and support from faculty and staff? Aside from a beautiful and useful final design called The Slider, you get to witness the passion inspired by the design innovation process.
Israel Oluwasakin, Kurstin Kalisek, Jaehyung Rhee, and Patrick Bomher formed a team in their class, Design Thinking and Communication (DTC). Part of the Engineering First® curriculum, DTC immediately puts students to work on real design problems submitted by individuals, non-profits, entrepreneurs, and industry members. The course is co-taught by an instructor from Northwestern Engineering and by an instructor from the Cook Family Writing Program at the Weinberg College of Arts and Sciences.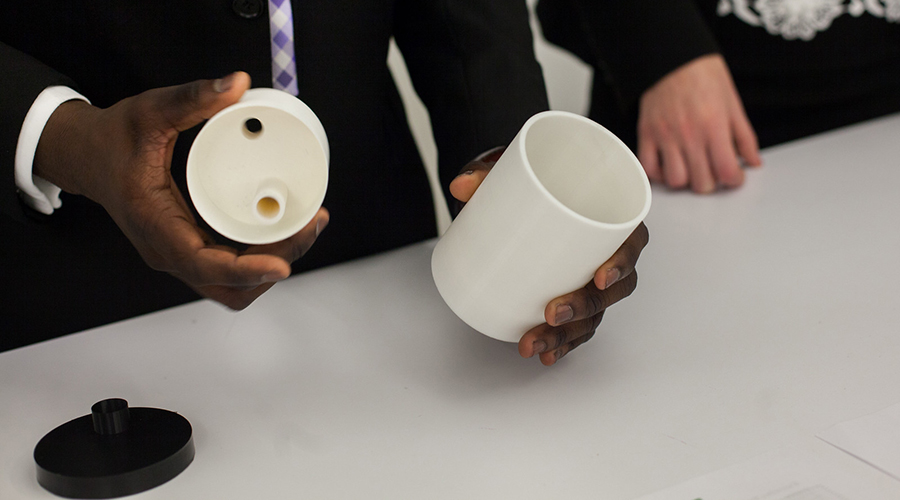 The Problem
The team's client was the Rehabilitation Institute of Chicago and more specifically patients there with dysphagia, or difficulty swallowing. Team member Kurstin Kalisek explained the problem they were trying to solve for the client.
"People at the Rehabilitation Institute of Chicago who have had a traumatic brain injury or a stroke often have difficulty swallowing liquids. Some can't even eat. The majority are on nectar-thick liquids, which are not as thick as honey but still more viscous than water. If they swallow too much, they might aspirate and choke," she said. "So, our task was to design a cup that dispensed these thickened liquids in about a teaspoon amount at a time, but is also easy for them to use."
Team member Patrick Bomher emphasized how important it was to get the design right.
"If these people did not drink thickened liquids out of a spoon to limit their sip size, they risked aspirating fluids into their lungs, which could make them very sick," he said. "Our goal was to make the lives of these people easier by giving them a reliable cup to drink from."
Team member Israel Oluwasakin added that the team was charting new territory with their design.
"The Provale cup exists for thin liquids, but there was nothing quite as good for thick liquids. The Rehabilitation Institute of Chicago was using spoons, so I felt surprised to say the least that a group of freshman engineers would be taking on a such a significant issue. Ultimately, it was a challenging, exciting and worthwhile experience."
There are many ups and downs in the design process and it is definitely not linear. It is crazy to look back on the transformation our group went through. From brainstorming many ideas, to struggling and failing with other mockups, DTC was like no other class I have ever had. Kurstin Kalisek, Team Member
The Process
To get started, team member Jaehyung Rhee from the Biomedical Engineering Program joined Bomher to conduct user observation at the Rehabilitation Institute of Chicago. User observation did more than help them identify the problem. It also helped them develop empathy for the end-users of their design, a critical part of the design innovation process.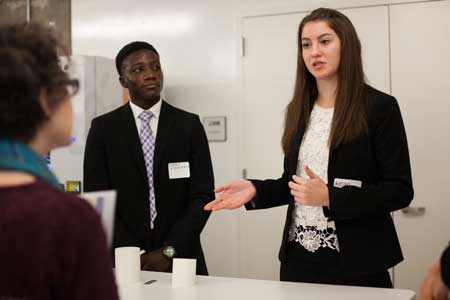 "Patrick and I went downtown to the Rehabilitation Institute of Chicago to observe patients and how they interacted with the current methods of dealing with this problem. It was really eye-opening to see how this problem that affected so many people had yet to be solved," Rhee said. "It made us realize how designing a device that functions could dramatically improve their lives. It also made me think about how we take so many things for granted every day, whether that's being able to lift a cup or the simple design of a handle on a water cup."
After user observation, the team began brainstorming ideas for a prototype. Oluwasakin described the process of rapid iteration that their design went through.
"The design process really is a messy one in the start, but things become more straightforward. We had a couple designs that really didn't work which we simply tossed out," Oluwasakin said. "Eventually, we focused our efforts on a design which seemed somewhat promising but still had its flaws. Slowly, we would eliminate most flaws by bouncing ideas off each other and suggesting improvements and modifications. It is pretty interesting to see our initial sketches compared to what we ended up going with. Our design sure did go through a lot of change."
Kalisek agreed. "There are many ups and downs in the design process and it is definitely not linear. It is crazy to look back on the transformation our group went through," she said. "From brainstorming many ideas, to struggling and failing with other mockups, [DTC] was like no other class I have ever had."
The team settled on a design that Bomher described as "a gravity-driven slide mechanism that could move by itself when the user tipped the cup to drink." They called it The Slider.
Kalisek added, "Our group was a bit torn on our design. We had many ideas that would have worked in theory but The Slider was something that came very quickly once we started rolling with it. We wanted something that used gravity to its advantage, making the user put in the least amount of work possible. They don't have to think about twisting and turning anything, the slider neatly fits into a groove of the chamber cup. Liquid naturally flows down into the 5cc chamber and then when the patient lifts, tips, and sips, the sliding mechanism moves to the second position and out of the cup."
The Solution
Their prototype for The Slider consisted of four parts: a lid, a chamber cup, the shell cup made out of PLA plastic and the slider made out of stainless steel.
"The lid, chamber cup, and shell cup were 3-D printed while the slider was cut by a water jet," explained Rhee.
"We used the 3-D printing Ultimaker machine in the Corner Makery to create the prototype," added Oluwasakin. "We got to take a brief class as group to learn how to use the machine."
3-D printing turned out to be Oluwasakin's favorite part of the project.
"My favorite part of the project was creating the 3D design on Inventor, a software program," he said. "I had minimum experience in CAD designs and was initially unsure how I was going to make the prototype. However, it was the most feasible way and when push came to shove I just set my mind to figuring it out. Things began to click quickly, and I was getting a hang of the software quite nicely. There were some really tricky parts about the cup which made me learn some tips and tricks about getting certain extrusions and cuts. When the product was all done, it was fascinating to touch the physical parts of the cup and think back to how I had to model it. This project forced me to learn certain skills which I know will be vital to my career as an engineer."
For the slider, the team worked with student trainers in the Segal Prototyping and Fabrication Lab. The trainers helped them use the Water Jet to cut up the stainless steel precisely and advised them on how to give the slider a pleasing finish.
Looking back at their experience in DTC, team members pointed to the impact that working on a real-world problem had on them.
"The best part of this project was definitely getting to feel like we were doing something real," said Bomher. "Going into this project, we were very intimidated. We told ourselves that we were just freshmen, and that there was no possible way we could build a real solution to this problem. But we did, which is really cool seeing as there really isn't any other product on the market that could do what ours could (sort of) do. That was very cool."
Team member Oluwasakin agreed.
"Personally, the experience was an eye-opening one," he said. "As a biomedical engineering student, I realized that DTC was a glimpse into my future. It was an experience that re-affirmed my choice to study biomedical engineering. I want a career where I get to put my mind to work with the empathy for other human beings as a driving force of motivation."
One of the team's faculty advisors, Christopher Naunheimer, praised their efforts.
"Engineers often believe they can find the perfect solution to a given problem. This thinking is a predictable outcome of an education based largely on rewarding the 'right' answer. In applying the design process, this team learned that perfect solution is an illusion," explained Naunheimer. "They learned that there are many solutions, each one with specific benefits and drawbacks. Once they accepted that their solution did not have to be the solution, they were free to develop a solution that met end-user needs while reflecting their individual creativity and passions."
Back to top