Seahorse Saver
A pressurized chamber for seahorses that allows for easier care, observation, and maintenance by aquarium staff
Problem
Gas bubble disease (GBD) is characterized by the formation of tiny gas bubbles in a fish's gills, fins, and eyes that can cause tissue damage and potentially fatal complications. The cause of GBD is unknown and current treatments are limited. GBD can affect seahorses in the wild and in aquariums.

Committed to world-class care for each and every one of the aquarium's 32,500 animals, Shedd's veterinarians are investigating a relatively new approach to treating GBD in seahorses using a pressurized tank similar to the hyperbaric chambers used for treating decompression sickness in scuba divers.
Solution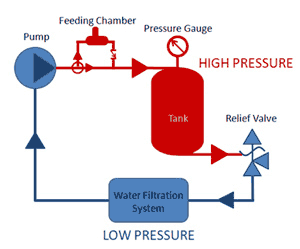 The team at the Segal Design Institute designed the Seahorse Saver: a pressurized tank constructed from a clear acrylic tube plugged at both ends by flanged aluminum caps. A hatch makes it possible to place and remove animals in the chamber and provides easy access for maintenance. The entire assembly is secured to a removable stand to prevent tipping.
The Seahorse Saver features variable pressure control from 10-150psi and a mechanism to feed seahorses undergoing treatment without releasing this pressure, all while allowing water to continuously flow through the tank. The clear body also allows for easy observation of seahorses under pressure. Water circulates from the device through the habitat where the animal inside ordinarily lives, ensuring optimal water temperature and quality and rendering an independent water purification system unnecessary. Seahorses can live comfortably inside the Seahorse Saver for days or even weeks.
The long-term partnership between Northwestern and Shedd provides students with real-world opportunities to work with Shedd's veterinarians and animal care teams, preparing and inspiring the next generation of engineers.
Team
Allison Bedell, Master of Science in Engineering Design & Innovation '13
,
Keegan Dunn, Segal Design Certificate '13
,
Alec Sampson, Civil Engineering '13
,
Baolu Shen, Segal Design Certificate '13
Advisers
Stacy Benjamin
,
Barbara Shwom
Program
Segal Design Certificate
Back to top