3XD™ puck™
A cord management system for smart-devices that easily hides, identifies, and separates cords for storage or transport
Problem
The smart-device market of iPhones and tablets is anticipated to grow from $20 billion to $72 billion worldwide by 2017. As the number of devices increase, so does the number of cords that each consumer must manage.
3XD™ puck™ is positioned to introduce a disruptive platform of cable management accessories into this category.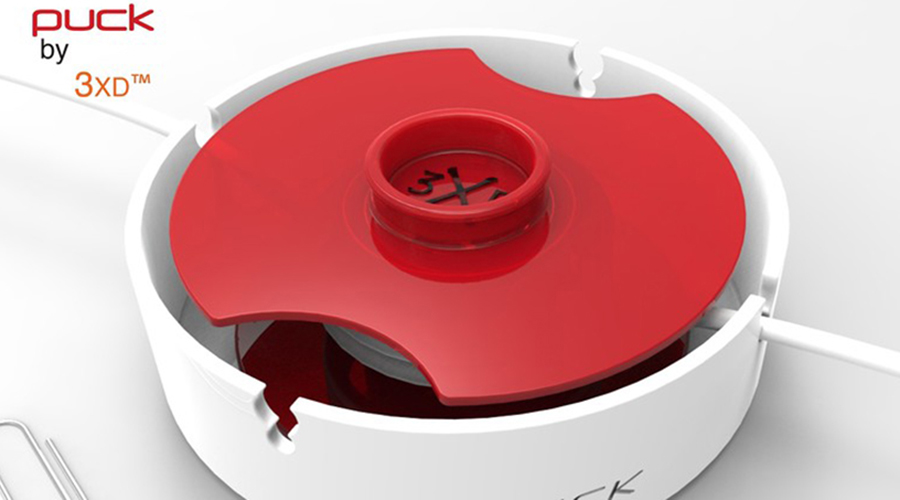 Solution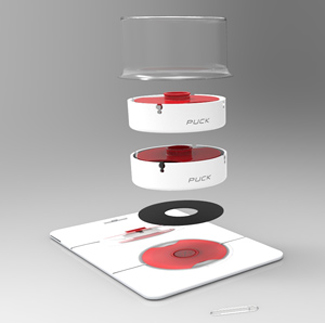 What differentiates puck from other cord management solutions is the simple design that allows users to easily:
separate cords individually by wrapping them around the inner spindle 
stack and snap pucks, to minimize mess
remove single pucks for discreet, portable cord management. 
The size of the puck is perfect for the standard six-foot USB cord. Included in every package of puck is a strip of micro-suction tape that allows the customer to "stick" a base puck wherever they choose without harming the surface of contact (e.g., woods, metals, plastics, and so on). 
The team is working with potential investors and exploring funding options to accelerate production and launch of their cable management solution. They intend to partner with experienced, design-focused investors to provide capital, guidance, and access to strategic channel partners as they expand.
Development Process
The Master of Product Design & Development Management (mpd²) Program capstone assignment requires student teams to use interdisciplinary design thinking skills taught in the two-year program to develop a product for the home.
The 3XD team's process aligns a user-focused methodology of research, prototyping, and iteration with manufacturing proficiency in materials science, production, industrial design, and lean methodologies in the business context of marketing, finance, and global distribution.
The team pursued a variety of different POGs (Product Opportunity Gaps), researching users in their environments and creating ethnographies to identify user needs and pain points.
After exploring feasibility, viability, and desirability of solutions in each space, the students narrowed their focus to cord management and the home/home-office.
The team used market research tools including interviews, surveys, and analytics to understand the competitive landscape and identify potential segments of target users.
After iterating through several rounds of design concepts, prototyping, and user feedback, the team focused on two design solutions. A final round of in-person and on the street interviews helped determine the final design direction.
The team filed a provisional patent to secure intellectual capital for the unique aspects of their cord management solution.
The team developed a business plan, based on the Business Model Canvas, including key partnerships, distribution channels, marketing, cost structure, key resources & activities, revenue streams, customer segments, and customer relationships.
Additional design and development went into packaging concepts and branding for the entity 3XD and the initial product: puck.
Rapid prototyping was used to create the final prototypes which were sanded, primed, and painted for presentation to potential investors.
The final presentation marked the release of a Kickstarter video for puck and the launch of 3XD's social media presence at 3xdsolutions.com, as well as on Facebook, Twitter, Pinterest, Google+, and YouTube.
Back to top