Foodiverse
Bring People Together, One Lunch At A Time
How might we combat echo chambers, filter bubble effects and cultural authority of knowledge? This was one of two challenges laid out before a group of Northwestern Engineering and Medill undergraduate students participating in the Northwestern's Bay Area Immersion Program during the 2017 winter quarter. 
The task was outlined by corporate partner Pete Mortensen, Medill '03 who works at Matter Ventures, a media-focused venture capital firm. Mortensen's challenge was framed within the broader scope of accuracy and trust in media outlets.
Guiding the students through the process would be Dr. Liz Gerber, associate professor of mechanical engineering, design and communication.
Focusing on people-centered design principals, the students explored and researched ideas for about a week and came back together to form six teams that each concentrated on a more-focused problem and solution gleaned from the insights they discovered.
Mortensen explained his firm's role as a partner for the student project.
"We came in to give them coaching, understanding where they were at, give them provocative things to think about it, push them to take things further," he said.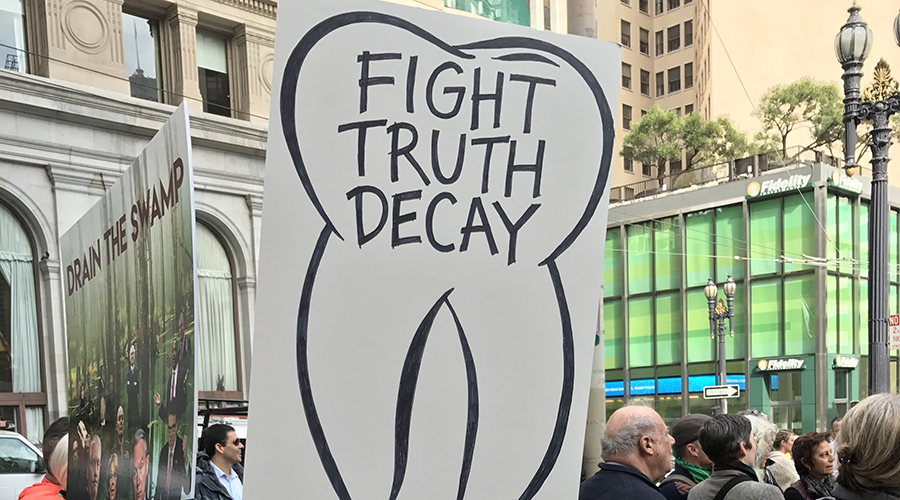 The Problem
How can we use face-to-face interaction to build trust between U.S. citizens and refugees in the United States? Through the 2016 president campaign and the beginning of the current presidential administration, the Syrian refugee crisis was repeatedly the subject of debate, but this team found that many people knew little about the subject.
The students got to a real insight around the most accessible part of culture can be food and then figuring out how do you actually translate that to have maximum impact and scale. Pete Mortensen, Matter Ventures
Process
The team did extensive research about the Syrian refugee crisis. The students visited and interviewed workers at a local refugee transition center. They interviewed refugees and read first-person blogs written by refugees.
The team first toyed with an idea of making Americans more aware of their everyday interactions with refugees, whether as Uber drivers or in other common jobs, but discarded it over concerns of it would inadvertently ostracize the refugee.
Food became a component after their research uncovered a story about refugees in New Jersey who served supper to neighbors as a way to bridge the cultural gap. The team wondered how that might work with children, considering how to increase play dates between refugee and American children, possibly through afterschool cooking classes. The team brought prototype children's lunch boxes featuring pictures and facts about ethnic foods and refugees to a weekend farmers market. The kids weren't very interested, but the parents got very excited.
"We realized we were targeting the wrong audience if we wanted to start a conversation," Stuzynski said. "That was a major turning point for us."
Pivoting again, the team decided to plug into the ready-made, politically receptive market in Silicon Valley startups.
"We emphasize committing to an iterative design. Don't get fixated on a solution early on. Rather develop through user testing and prototyping," explained Gerber.
Solution
The three-member team cooked up Foodiverse, a lunch catering service targeting Silicon Valley startup businesses, which commonly bring in lunch for their employees one or two days a week. The Foodiverse lunch boxes would feature a story about a refugee chef or local refugee family and include related ethnic cuisine.
"We did all this research and throughout the entire time, it was clear that food brings people together and shares commonalities that you might not find otherwise," said Kristen Stuzynski, mechanical engineering junior participating in the Bay Area Immersion Program. "Everyone can agree that something tastes really good; it breaks down language barriers."
"[The students] got to a real insight around the most accessible part of culture can be food and then figuring out how do you actually translate that to have maximum impact and scale," said Mortensen.
Current Status
With the addition of two new members for the 2017 spring quarter, the team is now considering how Foodiverse might target high school students with a tastier and more informative alternative to their cafeteria fare.
"High school students are just beginning to form their own opinions and ideas about the world," Stuzynski said. "It seemed like a good time to get people excited about a topic we care about."
Team
Brian Saunders, Samarth Soni, Kristen Stuzynski, Saskia Wiesebron, Jason Yuan
Program
Bay Area Immersion Program
Faculty Advisers
Dr. Liz Gerber
,
Anthony Jakubiak, EDI alumnus and senior interaction designer at SAP
Back to top